Reviewers' Club
You found it! Here you enter my contest to win a place on the Christina Dodd Reviewers Club.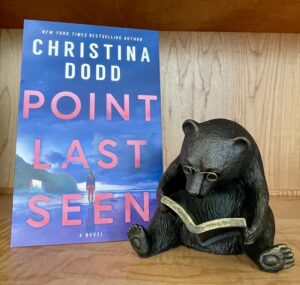 — Only a Christina Dodd mailing list member can win a place in the Reviewers' Club.
— You have until Thursday, May 19 2022 at midnight PT to enter.
— Only one entry per mailing list member.
— With apologies to international readers, Reviewers' Club members must have a U.S. mailing address. International postage regulations and customs forms make this impossible for us to manage.
— Winners will be notified by email, so watch for your letter!
If you're one of the winners, the Reviewers' Club staff (aka The Husband, who is stern but fair) will send you a personally autographed early copy of my new suspense, POINT LAST SEEN. Each reviewers is required to:
1. Read POINT LAST SEEN and post reviews on Amazon, Barnes and Noble and Goodreads between June 21 and July 1.
2. Pop a photo of the book up on social media to make your friends jealous.
3. Send a confirmation of your review posts/URLs to the Reviewers' Club staff (aka The Husband.)
Each Reviewers' Club who fulfills the requirements will be eligible in the Reviewers' Club to receive and review the next full-length Christina Dodd thriller for as long as the Reviewers' Club continues.
Good luck!
When you've already died, there should be nothing left to fear… POINT LAST SEEN