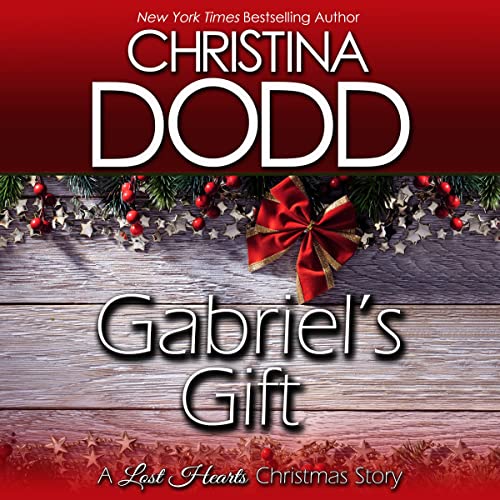 Lost Hearts #3.5
November 1, 2022
Self Published
Available in: Audio, e-Book
Gabriel's Gift
New York Times bestselling author Christina Dodd first introduced you to Gabriel Prescott in her beloved Lost Hearts series. She continued his story throughout the suspenseful Fortune Hunters series and at last, in DANGER IN A RED DRESS, readers rejoiced as he at last discovered the truth about his family, and met the woman of his dreams.
Now, in this original short story, Gabriel must confront the demons of his past for a young girl to have any hope of a future, and discovers that, at Christmas, blessings sometimes come in disguise.
Enjoy GABRIEL'S GIFT: A Lost Hearts Christmas Story, a heartwarming epilogue for readers of Christina Dodd's Lost Hearts and Fortune Hunters series.
Listen to an audio excerpt:
Gabriel has held a special place in so many readers' hearts, I wanted to write a story that would give us one more glimpse of him, his wife Hannah, his foster family, the Prescotts, and the brothers he discovered in the Fortune Hunters.
Now he has come alone to his ranch outside of Hobart, Texas, to prepare the house for the huge family Christmas he and Hannah will host. She is a pediatric resident, waiting at the hospital to perform surgery, but she calls him not long after he arrives…
"Did you remember the turkey?" Hannah hadn't recovered — would never recover —from the first year they'd been married when they had forgotten the turkey and Kate had forgotten the ham, and they'd had to eat a vegetarian Christmas dinner to the eternal joking delight of every guy in the family.
"It's huge, it's here, and I'll put it in the refrigerator," he assured her.
"Okay. Great. It'll be thawed by the time I get there tomorrow."
"When I get up in the morning, I'll run it under cold water if I think it's too hard."
He heard the smile in her voice. "The turkey?"
"You are a wicked, wicked woman." He loved her like this, all smug and laughing. "If you were here with me, I wouldn't have to run it under cold water."
"The turkey?" She was laughing out loud now.
"Of course the turkey. What else would I be talking about?" The background noise didn't sound like the hospital he was used to hearing: too muted, with a single voice murmuring softly. "Where are you?" he asked.
"I'm in the chapel. Sometimes when I get a break, I come in here and sit, and light a couple of candles. Today, I lit one for Maria, and said a special Christmas prayer for her."
"That's nice," he said.
"And I lit one for us and our baby, and said a special, Christmas prayer that we might find each other."
"Good." He nodded. "That's good." It seemed as if divine intervention might be needed before they would be able to resolve this crisis. Lighting a candle might be the only solution.
In the house, he heard a scraping noise above. "Hey, I've got to go. I think we've got critters upstairs." Another scrape. "In the playroom."
"Scorpions?"
"Bigger than that."
"Oh, no." She sighed in distress. "Possums."
"Probably. Or raccoons." In the matter of droppings, neither of them had manners.
"Now I'm glad I didn't come."
He laughed. "I'll check it out and call the exterminator. And I'll give you a call later. I love you."
"I love you, too."
He hung up, girded his loins and headed upstairs to the playroom. On his way, he glanced in the bathroom and boys' dormitory, but saw no signs of animal life. He entered the playroom and flipped on the light, expecting to see some wild animal scurry out of sight.
No movement. No signs of opossum or raccoon: no scratches on the woodwork, no animal pellets along the walls. He almost turned away and headed toward the girls' dorm, when he remembered the storage room. The size of a large walk-in closet, it included toys and games for every age; the Prescott family was constantly growing and changing, and it seemed every year brought a new baby, a new adolescent, a new graduate and a new marriage. And then another new baby.
He moved toward the storage closet. If the family kept growing, he was going to have to expand the ranch house just for Christmas.
He popped open the door.
Because … whoa.
His critter wasn't a critter. Not unless it carried its belongings in a Disney princesses backpack and slept in a faded Little Mermaid sleeping bag. A bowl with the remains of chicken noodle soup had been pushed hastily aside, and a black jacket with pink lining was hung on the hook that also held the baby bouncy chair.
There was no sign of the little girl these scattered possessions belonged to; she had fled in a hurry. But he knelt beside a photo stuck in a frame, of a girl and mother, both dressed as raggedy Anne dolls, both smiling, the mother looked young and pretty … and the little girl was missing her two front teeth.
Wow. He had a housebreaker. A really, really young housebreaker.
Order your copy of GABRIEL'S GIFT: A Lost Hearts Christmas Epilogue now!
back to Top