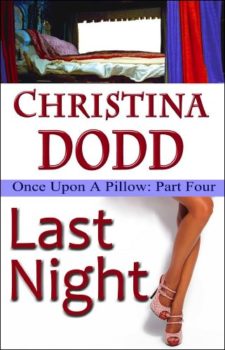 Once Upon a Pillow #4
September 20, 2013
Self Published
ISBN-10: 9780985727
ISBN-13: 9780985727369
Available in: Audio, e-Book
Last Night
The man in her house is a stranger to her, a danger to her … and the one man she should never love. What events of passion and peril could occur on this, their last night at historic Masterson Manor?
New York Times bestseller Christina Dodd brings you her fabulous and funny contemporary romance novella, LAST NIGHT. KIDNAPPED is her other novella in the collection.
LAST NIGHT was my first published contemporary romance, and I knew my marvelous historical readers would enjoy the story more if I gave it a strong historical background. So the story is set in England, at a historic manor house loaded with antiquites and mysteries, and featuring former lovers: A beautiful young historian and the handyman who is not what he seems…
TODAY IN TRECOMBE, ENGLAND
"The famed and massive Masterson bed was our last stop on the last tour, so if you'll come this way…" With practiced ease, Laurel Whitney led the tourists out of the Masterson master bedroom to the tidy little gift shop. "Because this is our final tour, everything except the books is half price." She smiled too brightly. "Buy lots."
"Even the weapons?" the teenager asked.
She started to answer.
But the handyman, Max Ashton, got there before her. "Especially the weapons," he said.
The tourists chuckled.
Laurel glared. She wanted to ask why Max had followed them, but she knew the answer. He wanted to annoy her for as long as was humanly possible. And he was doing a good job at it.
She adjusted the hem of her cream-colored cashmere sweater over her navy slacks and pretended not to notice him. After all, she had her dignity to maintain.
Laurel was the Masterson Museum's curator. She researched the ancient Masterson family, their traditions, and their legends. She lived in Masterson Manor and cared for it. Some people — like Max — would say that she cared far too much, for the thought of abandoning this place to its new owners broke her heart. Stupid of her to spend her days fearing the new owners would decorate with modern, minimalist furniture, and her nights imagining the desecration of the carefully tended old books that populated the library.
Thankfully, the tourists, scattered throughout the store, distracted her before she got teary-eyed. Or rather … more teary-eyed.
The teenager, Brian, hurried toward the glass-topped display of swords and battle axes, and when his mother joined him, he embroiled her in a heated discussion of why he needed at least one weapon of mass destruction. Mrs. Stradling scooped up bumper stickers and pencils. The tourists were thoroughly enjoying themselves, and Laurel watched them with a tight throat… The last tour.
For over a year, Laurel had lived at Masterson Manor, cataloguing the contents, discovering the most marvelous diaries from years past, and visiting the archeological sites on the estate. Once a day, she led a tour group along the corridors, guiding them through the rooms and trying, so hard, to give them an appreciation of the history in this little corner of England between Cornwall and Devon.
Now it was all over. Mr. and Mrs. Barry had sold Masterson Manor, and the new owner not only wanted to live here, but to discontinue the tours. When Laurel had asked if she would be allowed to carry on her research, Mrs. Barry had shaken her head. The new owner had been most insistent that he would use Masterson Manor as his country home.
It wasn't easy to support such an old house, with its need for constant repairs and improvements. Laurel didn't know how anyone could do it without the extra income from the tours. But it sounded as if the new owner was wealthy. Very, very wealthy.
So she had to face the facts. Her job was almost over. She had no choice but to secure another position close to a viable research site.
"Is this a replica of the Masterson estate?" Miss Ferguson peered through the glass at the three dimensional scale model.
"It is." Laurel hurried to her side to point out the sights. "There's the manor. We're standing inside right here." She indicated the northeastern corner. "There's the Masterson castle built on the cliff overlooking the ocean. Cromwell's men used cannonballs to knock the walls down, and the Cornish elements have done the rest." Before Miss Ferguson could speak, Laurel added, "The lorry will take you by there on your way out."
"I would hope so," Miss Ferguson said crisply. "I like castles."
"There's really not much to see." A recalcitrant wisp of dark hair fell out of the clip that held the slippery mass atop Laurel's head. She tucked it back in. Indicating the cluster of houses close to the manor, she said, "There's the village of Trecombe."
Brian, deprived of his chance to create murder and mayhem with his own broadsword, pressed his finger on the glass over the square mound not far from the manor. "What's this?"
"It's the site of the medieval abbey. It was razed by Henry VIII and the monks scattered. The chapel became Anglican, of course, and it still stands as a fine example of Gothic construction."
"Is it still in use?"
"Absolutely. Father Ellis performs services there every Sunday. The Mastersons saved some of the church art from Henry's deprecations and pieces now decorate the manor."
"Why didn't they return them to the church?" Miss Ferguson asked.
"Because the Mastersons were all scoundrels and thieves," Max said.
Laurel cleared her throat. "Actually, as I have demonstrated in my tales of the noble Masterson legacy, that is not true. As with all families, there were some less than illustrious souls, but the majority were upright citizens. Perhaps" — she glared with righteous American indignation at the British handyman — "their continued possession of church property could be attributed to the English propensity to assume that antiquities which are not nailed down are theirs to acquire if they wish."
The tourists said, "Ooo," and "Ahh," as if they'd just viewed an excellent fireworks show.
Max said nothing. He didn't look insulted. He looked like a man who loved to see her cheeks turn pink with anger and her eyes grow hot with indignation. He looked as warm and handsome and tough as he did in her dreams … and in her memories.
She was already emotional with the loss of her job and the end of the tours. She did not need Max Ashton to provoke her.
Hastily she said, "Not that all English people behaved in such shameful ways, of course. I didn't mean to imply that. But the church is unsecured, so valuables can't be kept there. Masterson Manor is the most safe and likely spot to keep the church art."
"What religious pieces did we see?" Mrs. Stradling glanced back toward the door that led to the master's bedroom.
"St. Albion's cross was on the chest close to the Masterson bed, the reliquary in the great hall and the alabaster vases in the library." Laurel frowned. She couldn't remember seeing the alabaster vases when they'd passed through the library.
Oh, no. Not again.
"The reliquary is remarkable," Miss Ferguson said. "But I wonder who had the nerve to steal the jewels off the lid."
In his most ironic voice, Max said, "Sold off to support the Masterson family in its dissipations, I'm sure."
"The Mastersons were a noble and honorable family," Laurel retorted.
"All of them?" His eyes gleamed.
The hair on the back of Laurel's neck rose. Abruptly, she was sick of putting up with him. His big feet, clomping around on the wooden floors. His big hands, deftly using hand tools to fix the plumbing and run cable and any of a hundred more jobs around the manor. His broad shoulders, precisely the right height for a woman her size to rest her cheek on. His tight ass, the kind that gave blue jeans a good name. His tawny mane of hair, his crooked blade of a nose, his lips, too grim for a genuine smile. His green eyes, the kind that young women fell in love with.
It wasn't bad luck that had brought Max to Masterson Manor. Oh, no. Max had told her he made his own luck.
Well, so did she, and she didn't have to put up with this rat and his provocative remarks.
She smiled at the tourists in apparent benevolence, then turned to Max and in the tone of a lady of the manor dismissing a serf, she said, "I don't require your help. You can go back to your odd jobs now."
Which should have put him very firmly in his place.
But Max looked at her, and some element in his slight smile made her retreat.
He followed, draped his arm across her shoulders, and in a voice loud enough to stop every conversation, said, "But, darling, it's the last tour. We can tell them the truth." He l ooked over his head at the avid group. "Laurel and I are engaged to be married."
Furious, Laurel swiveled to face Max…
Max, whose moss-green eyes were watchful and wary.
"We are not engaged." She enunciated clearly, in case someone in the fascinated tour group was hard of hearing. Or in case Max was, which he must be, because she'd been saying this for two weeks.
He, too, used a crisp enunciation, and Englishmen always won that game. "We should be."
Make sure you join my mailing list so I can notify you when my new titles are released!
back to Top