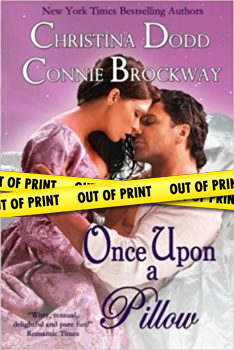 Once Upon a Pillow
May 17, 2014
Amber House Books, LLC
Box Set
Out of Print
Once Upon a Pillow
One bewitching bed…four captivating couples…two enthralling New York Times bestselling authors…
Once Upon a Pillow tells the story of the magnificent Masterson bed and the passionate couples who share it through the ages. This sparkling quartet of tales by two of historical romances' brightest stars—Christina Dodd and Connie Brockway—is set during four of England's most thrilling eras and proves that true love—and sizzling desire—are truly timeless. Once Upon a Pillow includes…
First Knight by Connie Brockway
In medieval England, a battle weary knight returns from the Crusades searching for peace and finds instead the feisty—and bloodthirsty—wife-by-proxy he'd forgotten he even had.
Kidnapped by Christina Dodd
A poverty-stricken lord concocts the perfect plan to win a fortune by abducting and marrying an heiress, but finds his own heart stolen when he snatches the wrong girl.
Her Captive by Connie Brockway
During George III's reign, a highwayman's beautiful sister will do anything to protect her brother from the bold kingsman set on his trail, even if it means chaining the fierce and furious man to her bed.
Last Night by Christina Dodd
The man in her house is a stranger to her, a danger to her, and the one man she should never love…and can't resist.
Currently out of print. Originally published July 2002 in trade paperback and February 2004 in mass market paperback by Pocket Books.