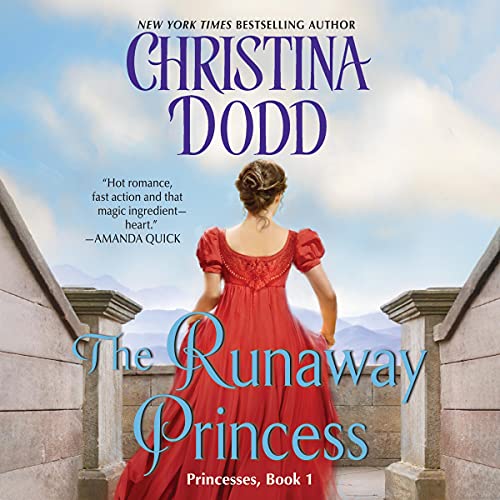 Princess #1
October 30, 2018
Avon Books
Available in: Paperback, Audio, e-Book (reprint)
The Runaway Princess
New York Times bestselling author Christina Dodd brings you romance, adventure, and a bride who will do anything to escape a marriage of convenience…
English orphan Miss Evangeline Scoffield has spent her life contenting herself with dreams. But with an unforeseen inheritance, she can afford one perfect summer. She buys herself expensive clothes, travels abroad, and presents herself as a lady of mystery. But she quickly discovers her mistake, for a darkly handsome man appears at her bedroom door, claiming to be a Crown Prince—and her fiancé. Her denials count for nothing. Danior will do anything to have her. Seduce her, abduct her, or when danger explodes about them, flee with his unwilling bride into a world of peril, promise and passion.
"Wickedly witty," — Julia Quinn, author of Bridgerton
Listen to an audio excerpt:
The Pyrenees, 1816
"Who could she possibly be?"
Ignoring the speculation, Miss Evangeline Scoffield posed at the door of the dining room and waited for the maitre d'hotel.
The flurry of whispers started in a dozen languages.
"Perhaps from one of the noble families of Europe. Napoleon displaced so many, you know …"
Bowing, he twitched his mustache as he asked in French, "Your usual table, Mademoiselle?"
"Thank you, Henri," Evangeline handed him a coin and nodded, not like a misplaced princess, but like a sensible Englishwoman. "I will be seated."
"The servants hint she is a princess …"
"All alone, poor thing, without even a maid …"
This resort had once been a private chateau near the Spanish border. Now Chateau Fortuné was one of the crown jewels of the grand tour, and Evangeline reveled in being one of its shining facets. Her emerald silk skirt created a satisfying rustle as she threaded her way past the white linen-draped tables, and without appearing to, she observed the heads that swiveled her way.
"She's very nicely … formed. She has the looks of an exotic."
With a flourish, Henri pulled out her chair. Seating herself, she placed her drawstring clutch on the table and draped her Brussels lace stole around her shoulders. Then in rapid succession, the waiters poured her a glass of fragrant, ruby wine and laid the snowy napkin in her lap, while Henri announced her choice of soups and entrées. The mere recitation made her close her eyes in anticipation. She loved good food. She loved eating in such an exquisite setting. When she finished placing her order, the four men bowed and backed away from the table. They were kind, even beyond the kindness she bought with her generous gratuities. Was it perhaps because they felt sorry for her?
That truth stabbed at her. Abruptly, she turned her head away from the other diners and tried to stare at the moonlit peaks. Instead, she saw only reflections in the window. Even now, as the fervor her appearance had created faded, the wayfarers lost interest in her. They returned to conversations with their spouses, their children, their lovers. Only she remained alone. She had imagined that would change in the six days she had been here, but her lingering good sense kept her apart, and alone in the Pyrenees, she'd found, was much the same as alone in England. The reflections in the window wavered with the sudden glaze of tears in her eyes. Alone, without a home, without a family …
Henri's voice spoke beside her. "We have the bread, still warm from the oven." A yeasty scent accompanied the basket of golden, crusty rolls. "We have the soupe de poisson." The scent of oregano and trout in a tomato-based broth appeared under her nose. "And we top off your glass with wine." Jerking his head toward the far end of the chamber, he whispered, "You have an admirer. Wait until I leave, then glance around the room. Near the fire, facing you." Leaning closer, he murmured, "The virile one asked to be placed where he could watch you."
Evangeline's heart gave one huge thump, then resumed its usual smooth beat. Henri was exaggerating. Men showed themselves remarkably able to resist her charms. "Thank you, Henri." She ignored his reproachful glances as he backed away. Tearing a roll into halves, she buttered it and took her first, heavenly bite. Her eyes slid closed as her teeth crunched through the crust. She adored France. She adored the language. But most of all, she adored the bread. Embarrassed by the sensual pleasure she found in a simple loaf, she hastily opened her eyes — and saw him.
He was virile, and he was watching her.She observed interest, speculation, and an intense … well, it looked like … but it couldn't be. Possessiveness.
The sound of a shower on her silk skirt distracted her, and looking down, she realized she had squeezed the piece of bread until the crunchy golden crust flaked and fell into her lap. She placed the mangled roll on its designated plate. She brushed at her skirt. Steam rose from the soup. Soup. So plebeian, so normal. Just like her. She'd never given a man reason to be possessive about her.
Controlling the tremor in her fingers, she grasped the spoon. Dipping it into the broth, she lifted it to her mouth. Good sense returned even as she swallowed. Her spinster mind, egged on by Henri's melodramatic speculation, had exaggerated the stranger's regard. The stranger watched her, yes. But no doubt he watched her with the same inquisitiveness — oh, call it by its true name, nosiness! — as did the other pleasure-seekers bent on satisfying their every appetite, including the hunger for scandal.
Taking another spoonful of the soup, she sighed as the flavor of oregano pursued the fish and roasted garlic. Yes, soup. Heavenly. Ordinary. Yet a chill chased up her spine.
Imagination, she told herself. Nevertheless, she experienced the urge to look up, and as Henri whisked the soup bowl away and replaced it with the plate of lamb, she did so.
The stranger stared directly into her eyes, and he lifted his glass in salute.
Her lungs ceased to function. Her heart leaped, and she gawked like a rabbit mesmerized by a snake.
His ebony lashes framed blue eyes; she could see that even from across the room. But not sky blue, or cornflower blue. Burning blue, blazing with a passion for … for what? For her, if his wolfish smile was any indication.
But for all his hungry display of teeth, the stranger did not seem to be starving. His tailored black frock coat outlined shoulders broad as a peasant's who worked the fields. His hands were big, so big they swallowed the wine goblet he held. His smile expanded to rapaciousness.
She found herself on her feet. She had to leave this place. Now.
"Mademoiselle?"
She turned her petrified gaze on Henri.
"Is the lamb not to your taste?"
"Yes. No. I don't know." She clutched the tails of her stole. "I'm retiring to my suite."
An expression of what appeared to be acute gastrointestinal distress contorted Henri's features. "Whatever is wrong, I will fix it. The lamb is too spicy, isn't it? I warned that fool of a cook … you cannot go without eating. You never go without eating …"
His wail sounded in her ears as she hurried through the crowded tables toward the door. Eat? She couldn't eat. A strange man had looked at her. Looked with an intent she'd seen directed only at others.
The buzz of conversation grew around her as the tourists noticed her retreat. She was hurrying like a woman forced, through desperate circumstances, to earn a living. She had hoped never to hurry like that again.
She continued her race to the entrance. She reached the portal and continued past the comfortable sitting chamber, along the dark, empty hallway to the double doors at the end. With trembling fingers, she fit the key in the lock. The door opened, she stepped inside, and closed herself in. She leaned against the door, her heart pounding. Had the stranger chased her? Was he even now striding toward her bedchamber? Pressing her ear to the polished wood, she strained to hear footsteps, but the thick walnut muffled any sound. Was he standing out there, preparing to knock?
She couldn't bear the suspense, and taking a deep breath, she whipped open the door.
The corridor was empty. No one was there. No one had followed her.
Feeling prodigiously silly, she locked herself in. Whatever made her think she could pull off this deception?
Ruefully, she looked around the bedchamber lit by the soft flame of beeswax candles. Deep-grained walnut paneled the walls. The enormous, comfortable bed was hung with brocade velvet curtains. The frame rested on a dais that every night made her feel like a princess as she drifted off to sleep. She loved this room, but it was time she admitted the truth. She was a fraud.
Kneeling beside the bed, she groped at the ropes that supported the mattress until she found the carpetbag. She'd felt the lump it created in the mattress every night as she drifted off to sleep, and she had exalted in it, for this carpetbag contained the key to her independence. Gripping the handles, she wiggled the bag free and dragged it forth. Opening it, she removed the bound sheaves of pound notes, laid them out on the carpet, and counted them. Three thousand pounds. In less than a month, she had spent half of her inheritance.
Covering her face with her hand, she fought the hard, cold truth, and lost. She knew she had to go back to England, before Leona's legacy had been wasted chasing a dream of adventure and romance. There remained enough money to open a bookshop. She knew more about books than any woman in all of Britain, and she could make a success of it. Yet … yet … she lifted her head and stared drearily at the wall. Was she going to live and die after such a brief taste of pleasure?
The knock made her jump, and she stared at the door with dismay.
"Mademoiselle, it is Henri. I have your handbag."
Her handbag! She'd left it in the dining chamber. Urgently, she picked up the wadded bills and stuffed them in the carpetbag. "Just a minute." She shoved it under the bed. Standing, she smoothed her skirt, then walked to the door. Some lingering caution made her say, "Henri?"
"You also dropped your gloves," he said.
"Thank you." She opened the door. "You are the best —"
But it wasn't Henri whose shoulders blocked the light from the corridor. It was the man from the dining room who offered her bag and her gloves on his outstretched hands. It was the man from the dining room whose cobalt eyes glowed with triumph and who gave a mocking bow. "Your Royal Highness," he said in Baminian, "how long did you think you could escape me?"
Make sure you join my mailing list so I can notify you when my new titles are released!
back to Top