Bella Terra Audiobook CD Contest!
Enter to win one of two complete sets of Bella Terra audiobook CDs! The sets each include these full-length romantic suspenses: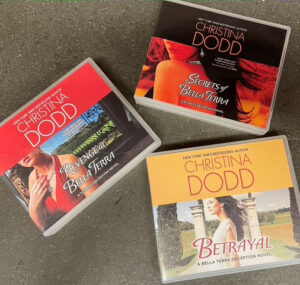 — BETRAYAL
My international readers are important to me! The prize for international readers (from a country other than the United States) is a $25 Amazon gift card.
This contest ends midnight PT November 23. The winners will be picked by a randomizer. Winners will be notified by email.
Christina Dodd downloadable/printable book list sorted by genre/series/in order.