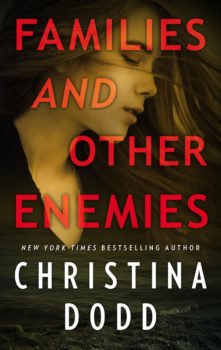 Cape Charade #1.5
January 1, 2019
HQN
Available in: Audio, e-Book
Families and Other Enemies
I still don't remember, but I know what happened now. I had a baby, and that changes everything.
Kellen Adams has fought battles, saved lives and earned the respect of her colleagues and the love of her friends. But now can she triumph against the greatest challenge of her life—her family?
Families and Other Enemies is a new Kellen Adams short story by New York Times bestselling author Christina Dodd, filled with her trademark mystery and humor.
Listen to an audio excerpt:
Kellan's hand hovered over her phone.
She needed to call Max and her daughter, Rae, update them, let them know where she was, what she was doing, when she would be…home.
Not home. She had never lived at the winery. She'd never been to the winery. But seven years ago, after Kellen woke from her coma, a year of her life erased from her mind, she had walked out, joined the military and disappeared. Max had taken their baby and come to run the Di Luca family winery in Oregon's Willamette Valley. It was a place he could start anew, without memories and heartbreak. With his mother's help, he had raised Rae to be a delightful girl. And the way Kellen was acting, one would think Rae was a monster.
Kellen picked up the phone and punched in the number. She really really really really hoped Max didn't ans—
"Kellen?" Max's voice held all the notes: worry, fury, concern, indignation.
He had been her lover, and those tones felt like a warm coat enveloping her. A coat with a tag sticking right at her neckline, and that was the guilt jabbing at her. "Yes, it's Kellen. I'm fine. Wanted to check in. I'm in Virtue Falls."
"Virtue Falls?"
Kellen could almost see him straighten up.
Max Di Luca: Male, 30s, 6'5", 220lbs, predominately Italian ancestry, former football player. Handsome, tanned, curly black hair, brown eyes surrounded by long black lashes that waved a sultry invitation every time she looked his way…
Erase. Erase. Erase. Erase.
Try again.
Max Di Luca: Male, has hair, body, face, eyes, lashes. Once high up in the Di Luca family corporation, stepped down to raise his daughter, now director of the family's Oregon winery operations. Kind, generous, responsible, loving, yet a master of seizing every opportunity, stickler for duty.
More of a stickler than Kellen, it appeared.
Max did not appreciate their daughter being dismissed for whatever reason. "What happened to Nevada?"
"I went to Nevada." To visit Aunt Cora in the memory care center. "My aunt didn't recognize me so I drove north and—"
"Didn't stop here."
"I should have, but I… Max, I didn't know what to say. I don't know what Rae needs from me."
In a crisp tone she had never before heard from Max, he said, "Maybe you should ask Rae what she wants."
Uh-oh. "No! Listen!"
His hand over the phone, he bellowed, "Rae! Your mama wants to talk to you."
In the background, she heard a girl's seven-year-old voice shrieking, "Yayyyyy!" The phone was dropped, picked up, then there she was, Rae Di Luca, the person Kellen most feared in the whole world. "Mommy! Where are you? I can't wait for you to come home."
"Well, I—"
"I'm going to show you my princess dolls and my dollhouse and my slimeball and my secret tree house—"
Max's voice sounded in the background. "You have a tree house?"
"No." A pause, then Rae continued in a more subdued voice. "Grandma made cookies and burned the bottoms. Do you make burned cookies? I've got three weeks of school and then it's summer vacation. Can you come in time for my class party? My friends could see you and that would be awesome! Roxy Birtle says I don't really have a mommy. You could be my show-and-tell!"
Kellen realized Rae had stopped talking. Kellen took a breath, trying to think of the right answer. "I hope I can come to your class party. Right now, I'm in Virtue Falls, and I have responsibilities and duties I've committed to perform." Oh, no. She sounded so stultified, using big words no seven-year-old would understand.
But Rae asked, "Are these solemn responsibilities and duties?"
Kellen thought of her promise to appear at the food pantry. "I'm going to prepare soup at the Catholic shelter so the homeless will not starve. Yes, my responsibilities and duties are solemn."
"Okay!" Rae's cheerful note was back. "When you come home, we'll have a good time." She lowered her voice. "Don't tell Daddy about the tree house."
"I won't."
"I love you, Mommy."
Kellen found herself caught on a hook through her throat. Rae meant it; she put all her youthful enthusiasm into those words. Yet how could Rae love Kellen? They had barely met.
But Max had kept Kellen alive in Rae's mind as the mommy she had never known—kind, generous, loving… "I am so happy to know you're my daughter." Kellen didn't say I love you; she had trouble saying that. For her, love had never turned out well.
Make sure you join my mailing list so I can notify you when my new titles are released!
back to Top