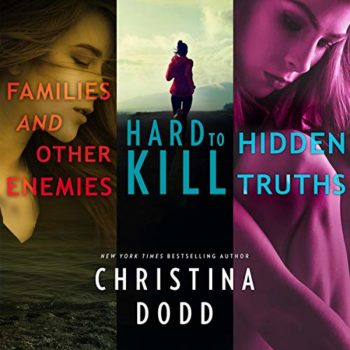 Cape Charade
September 1, 2019
Harlequin Audio
Box Set
Available in: Audio
Families and Other Enemies & Hard to Kill & Hidden Truths
Three Cape Charade Suspense Stories starring Kellen Adams
HARD TO KILL
(originally published August 2018 in eBook by HQN)
When Captain Kellen Adams receives a job offer that sounds too good to be true, she finds herself balanced between fascination and fear. All she has to do is break a code and find a long-lost fortune…or die trying.
FAMILIES AND OTHER ENEMIES
(originally published January 2019 in eBook by HQN)
Kellen Adams has fought battles, saved lives and earned the respect of her colleagues and the love of her friends. But now can she triumph against the greatest challenge of her life–her family?
HIDDEN TRUTHS
(originally published September 2019 in eBook by HQN)
His new bride, Kellen, hovers between life and death.
A convicted serial killer threatens their child.
Max Di Luca goes on the hunt…
What would you do to protect your family?
Read the entire acclaimed Cape Charade series:
1. Hard to Kill: Cape Charade suspense novella
2. Dead Girl Running: Cape Charade full-length suspense
3. Families and Other Enemies: Cape Charade suspense novella
4. What Doesn't Kill Her: Cape Charade full-length suspense
5. Hidden Truths: Cape Charade suspense novella
6. Strangers She Knows: The Cape Charade Grand Thriller Finale