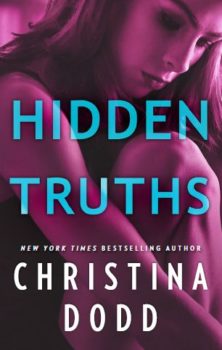 Cape Charade #2.5
September 1, 2019
HQN
Available in: Audio, e-Book
Hidden Truths
His new bride, Kellen, hovers between life and death.
A convicted serial killer threatens their child.
Max Di Luca goes on the hunt…
What would you do to protect your family?
Listen to an audio excerpt:
Max Di Luca placed the two flat pillows against the wall, sat on the bed, put his feet up and called home.
His mother answered the phone. "Max. Are you all right?"
"I'm fine. I'm at the motel—"
"Motel? You're at a motel?" Verona made it sound like a den of infamy.
In this case, she might have a point. He hastened to reassure her. "It's fine, it's clean, it's close to the prison. I can accomplish my mission and get out quickly."
"What is your mission? Max, what are you thinking, leaving your wife at this moment? Kellen could die while you're gone." Verona sounded truly upset.
"I know, Ma. But Kellen wants to know whether Mara Philippi is in prison."
"Kellen is unconscious!" Verona spaced the words.
"She wants to know she's leaving us safe, or that she's leaving us on alert. She saw Mara Philippi at our wedding. If that woman is free—"
"Mara Philippi? How can she be?" Verona put all her incredulity into her voice. "She is incarcerated in a federal prison!"
"I don't know how it's possible, but I'm here to find the evidence one way or another. I know Mara. I worked with her. I tackled her and brought her down." He felt a bone-deep satisfaction about that. "All I need is one good look at her face, close up, not through a camera, and I'll be satisfied one way or the other."
"What if you're hurt?"
"In a federal penitentiary? How? There'll be guards everywhere."
"She's vicious, she's crazy, she kills, and you helped bring her to justice!"
Patient with Verona, because she was his mother and she was truly scared, he said, "All the reasons I need to know she's still behind bars."
"When you see her face-to-face, she could attack you!"
With some humor, he said, "I can defend myself."
"I saw Silence of the Lambs!"
Ah. At last, the truth behind her fears. "I'll try not to let her take a bite out of me."
In the background, Max heard his seven-year-old daughter yelling, and he asked, "What's Rae saying?"
"I'm tired of talking sense to you both. Here. She can tell you." Verona put Rae on the line.
"Daddy." Rae's voice was serious. "Mommy is going to get better."
Oh, God. Oh, no. All that hope swaddled up in that sweet little body. "Sweetheart…"
Firmly, Rae said, "God is not going to let Mommy die."
"Sweetheart, before I left, we talked about this. The doctors said—"
Rae interrupted, "It doesn't matter what they said. Daddy, all we need is a miracle."
All we need is a miracle. "Yes. But…"
In a stern voice, Rae asked, "Daddy, are you praying for a miracle?"
What was he supposed to say? That God didn't exist, prayers didn't work, and miracles didn't happen? He was the one who had taught Rae about praying and God, and assured her a miracle could always happen. "I am praying for a miracle." A lie. He hadn't been praying at all. Right now, he couldn't even bear to talk to God.
Rae must have heard it in his voice, because she said, "You have to believe. Mommy's going to live!"
"I'll pray," he promised.
"That's better." Her little-girl voice lost its stern edge. "Hurry up and find this bad lady, and come home!"
"I should be home tomorrow."
"I love you, Daddy." The phone went dead.
Max hung up and sighed, then he did as he'd promised.
He prayed that Kellen would live.
He prayed for a miracle.
I'd love to welcome you as a newsletter friend. You'll enjoy book updates, book sales, surveys, and humorous insights to the writing life. Join!
back to Top