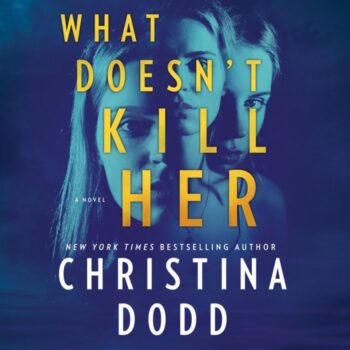 Cape Charade #2
August 20, 2019
HQN
ISBN-10: 1335005781
ISBN-13: 9781335005786
Available in: Paperback, Audio, e-Book
What Doesn't Kill Her
One secret, one nightmare, one lie. You guess which is which.
1. I have the scar of a gunshot on my forehead.
2. I have willfully misrepresented my identity to the US military.
3. I'm the new mother of a seven-year-old girl.
Kellen Adams suffers from a yearlong gap in her memory. A bullet to the brain will cause that. But she's discovering the truth, and what she learns changes her life, her confidence, her very self. She finds herself in the wilderness, on the run, unprepared, her enemies unknown—and she is carrying a priceless burden she must protect at all costs. The consequences of failure would break her. And Kellen Adams does not break.
What doesn't kill her…had better start running.
Listen to an audio excerpt:

What doesn't kill her…had better start running.
Kellen's phone rang. It was a Washington, D.C., number, and that meant only one person—Nils Brooks, head of the MFAA, dedicated to halting the flow of purloined artifacts into the US and always willing to put her life on the line to do it. She answered, "Adams here."
"Kellen, it's Nils. I have a text that you've been picked up and are on your way to the airport."
"That's right."
"Did Max tell you anything about the job?"
"That me and Horst from Richart Movers are picking up a mummy's head at the airport and transporting it to some guy who's going to restore it, he's somewhere in the Olympics, and there's going to be a hike."
Horst shot her an inquiring look.
She smiled at Horst and shrugged.
Nils said, "Sort of. This piece is rare, one of those artifacts that's going settle fights among the experts and start fights among thieves."
"Valuable."
"Priceless."
Priceless. She never liked to hear that word.
Nils continued, "My courier was supposed to take it on the plane with him, never let it out of his sight."
She could almost hear the drumbeat of doom. "And?"
"He died. In the airport. The official report said he was knocked down as he was checking in at the machine. He hit his head. Current medical diagnosis is that it was a brain hemorrhage."
Kellen closed her eyes and rubbed her forehead. "Probably not, huh?"
"Probably not, since he went against orders and checked the bag through to Portland, knowing full well it couldn't easily be retrieved from the hold of the plane." Nils waited for a response.
She thought through all the possible scenarios. "So Horst and I could face some…challenges?"
"Possible challenges. Yes."
"Nils."
"Probable. I don't believe in coincidence."
"No kidding." She ladled on the sarcasm. "What does this restorer guy have to say?"
"Not much. He's only got a wireless up there—"
"What? Is he living in World War II?"
"And he didn't respond when I called."
She took a moment to let that soak in. She and Horst were taking a priceless antique head into the Olympic Mountains and hiking it up to a weird recluse expert…and the guy didn't know they were coming? "Nils…"
"How well do you trust Horst?" Nils asked.
"Good question."
"You don't want to say too much."
"Not now!" Not with Horst sitting next to her.
"I told the boss at Richart Movers we needed someone trustworthy, and he said he'd do the best he could on such short notice."
"Oh, dear." The short notice thing was not promising.
Horst glanced at her as if trying to follow the conversation, but he seemed uncertain.
That worked for her. "Why the late update?"
"If I'd told Max all this, he wouldn't have passed the message on."
"So you men fixed things up between the two of you, and this is the result?" She hadn't packed everything she would need, like her body armor and her extra weapons. She rode in a van with firearms that looked good but which she had not tested, with some guy she hoped had had proper security training. She was acquiring a head that Nils Brooks called priceless. Great. Just great.
And…her adrenaline kicked up to enjoyable levels.
Yes, she had missed this.
Make sure you join my mailing list so I can notify you when my new titles are released!
back to Top