Virtual Interview with Kristin Hannah
Wednesday March 24, 2021 at 6pm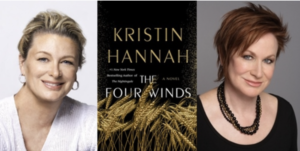 Hosted by Village Books
Kristin and I have a friendship reaching back thirty years (!) and I'm excited to interview her about her newest #1 New York Times release, FOUR WINDS. I hope you'll sign up to attend!
"Through one woman's survival during the harsh and haunting Dust Bowl, master storyteller, Kristin Hannah, reminds us that the human heart and our Earth are as tough, yet as fragile, as a change in the wind." —Delia Owens, author of Where the Crawdads Sing
Order Kristin's sprawling and emotional FOUR WINDS ("My land tells its story if you listen. The story of our family,") and my own suspense thriller WRONG ALIBI ("In the Alaskan wilderness, the hunted can become the hunter…") from Village Books.
Find more information about FOUR WINDS on Kristin's website.
Read a WRONG ALIBI excerpt and listen to free audiobook clip here on my website.
Christina Dodd downloadable/printable book list sorted by genre/series/in order.
Christina Dodd Books by Series. Click covers to read excepts, listen to audiobook chapters and find buy links.
If you're not already a Christina Dodd newsletter friend, what are you waiting for? I'd love to welcome you as a newsletter friend. You'll enjoy book updates, book sales, surveys, and humorous insights to the writing life. Join!