Jayne Ann Krentz and I joined together with the Poisoned Pen Bookstore for an online interview, now seen by over 5,000 highly amused people on Facebook. You can view the magic here, or download and listen to the podcast here.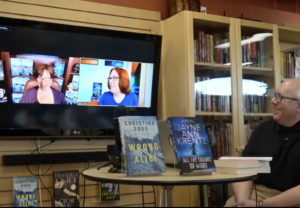 Want an autographed book? Order Jayne's romantic suspense ALL THE COLORS OF THE NIGHT ("Paranormal secrets, revenge and a mad scientist. All in a day's work for a couple of psychics.")
Christina's suspense WRONG ALIBI  ("In the Alaskan wilderness, the hunted can become the hunter") sold out at the Poisoned Pen. Thank you for your enthusiasm! But if you'd like an autographed copy, call Page 2 Books at 206.248.7248; I signed WRONG ALIBI copies for them, too!
WRONG ALIBI is also available in eBook, paperback, hardcover and audiobook.
Put RIGHT MOTIVE and WRONG ALIBI on your Goodreads To-Read list for notifications of future contests!
Watch and download the WRONG ALIBI video here. It's lovely!
Updated Printable book list sorted by genre/series/in order.
Books by Series list with clickable covers.
Make sure you join my mailing list so I can notify you when my new titles are released!