This week on Facebook, Susan Elizabeth Phillips grilled me about my new release, WRONG ALIBI, and was so much fun…except because of technical difficulties, we were 10 minutes late. But that doesn't matter for you — it's recorded and you can watch it anytime you like! Susan is as humorous and compelling in person as her books are when you read them!
Thank God when, a few minutes later, we went to Instagram Live, and everything was perfect…almost. Again, an entertaining interview for you to enjoy!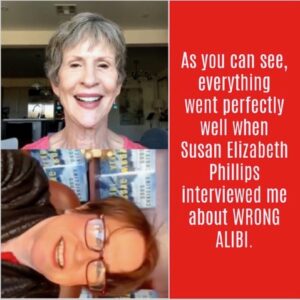 Read about the WRONG ALIBI/RIGHT MOTIVE series.
Christina Dodd's downloadable/printable book list sorted by genre/series/in order.
Christina Dodd Books by Series. Click covers to read excepts, listen to audiobook chapters and find buy links.
Put more fun in your life Join Christina's mailing list!