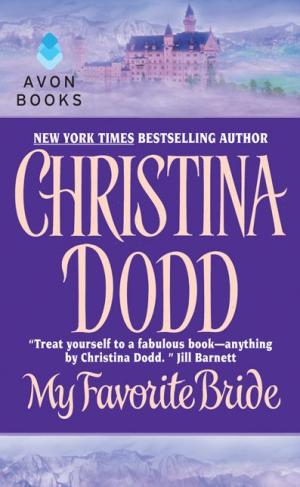 Governess Brides #7
June 1, 2021
Avon Books
Available in: Paperback, Audio, e-Book (reprint)
My Favorite Bride
New York Times bestselling author Christina Dodd brings you "The Sound of Music meets Jane Eyre" in her refreshingly humorous addition to the Governess Brides series…
When Miss Samantha Prendregast arrives at Devil's Fell to take charge of six rebellious girls, the vibrant, outspoken governess finds she can manage the children with intelligence, guile…and a little bribery. Their widowed father, Colonel William Gregory, is not so easily charmed — and far too easy to love.
William always cherished the orderliness of his life until this captivating troublemaker arrives. Despite the fact that they clash at every meeting, William finds himself drawn to Samantha's fire. And now he's even contemplating marriage, which would be sweet madness indeed. But before he can successfully woo her, William must discover what Samantha is hiding. But the secret the lady is preciously guarding is far too shocking and dangerous to ever reveal…

Listen to an audio clip:
No governess series would be complete without a tribute to my favorite movie, The Sound of Music. But my heroine Samantha is not an incorrigible nun turned governess. Quite the opposite. She's a pickpocket turned governess and she finds Colonel William Gregory and his six children quite a challenge — but not as much of a challenge as they find her.
MY FAVORITE BRIDE is the sixth in the Governess Brides series.
London, Summer, 1843
"It's not that you were a pickpocket, Samantha. It's that you persist in exposing your employers' foibles." Anyone listening would think Adorna, Lady Bucknell placidly accepted Samantha's most recent dismissal.
Samantha Pendregast didn't make that mistake. She stood before the desk in the study of the Distinguished Academy of Governesses with her chin up, shoulders back, just as Adorna had taught her. "No, ma'am."
"I warned you about Mr. Wordlaw, and you assured me you would be able to handle him. Yet in two short months you are back here." Adorna fixed her large blue eyes on Samantha.
"He bullies his son. Little Norman stammers, and when his father dragged him up in front of the entire family and mocked him, I determined to" — Samantha grew furious as she thought about it — "teach that man a lesson."
"So you told his wife about his mistress and convinced his mistress to abandon him. How will that benefit young Norman?"
"Mrs. Wordlaw's father controls the money. She has taken her son and left Wordlaw."
"And the mistress?"
Samantha grinned. "She's a friend of mine from my street days. My lady, I'm sorry I brought disgrace upon the Distinguished Academy of Governesses. But I'm not sorry I helped Norman."
"No, I'm not sorry, either. But there are always more discreet ways of managing a state of affairs. Sit down." Adorna indicated the blue velvet chair beside Samantha.
Samantha slid into it gratefully. "I know. I try to remember what you tell me, but I lose my temper and I don't get it back."
"Mr. Wordlaw had quite the black eye when he came here to complain. "Adorna observed as Samantha bunched up her skinny fist. "Did he attack you?"
"He tried." Their tussle had been brief and sharp, and Samantha's arm ached where he had wrenched it. "He really is a despicable little man."
"He's over six foot." Adorna tapped her nails on the open letter before her. "Part of the problem is that you're an attractive young woman."
"Thank you, my lady." Samantha was too thin. She knew it. Adorna agreed. But something about her smooth, strong shoulders, her slender body, and the way she walked, brought her attention. More attention than she wanted, usually, for her early life had given her an unvarnished knowledge of men and women and how their bodies worked, and Samantha wanted none of it. Nothing Adorna said to the opposite had changed her mind.
"Part of the problem with placing you is your former profession. If you hadn't been such a famous — or shall I say infamous — pickpocket, things would be easier now. You were well-dressed. You were glamorous. You lured the ton into dark alleys and robbed them, and they liked it."
"The men did, anyway. The women were not so tolerant."
"I thought myself quite tolerant. I didn't have you hanged. I saw something in you that I liked." Adorna looked down at the letter open before her. "I have a solution to your problem. You must leave London."
Samantha found herself on her feet. "Leave London?" she shouted.
"A lady always modulates her voice."
Samantha tried to speak normally, but discovered her modulator wasn't working. "Leave London?" she whispered.
"I have here a letter from Colonel William Gregory of Silvermere in Cumbria."
"Cumbria?"
"In the Lake District."
"The Lake District? But that's … in the country."
"Fresh air," Adorna agreed.
Samantha waved a feeble hand. "North … far north. And west. Mountains. Tall, menacing mountains."
"Snow. Brisk, clean, white snow. Clear streams. Beautiful blue lakes. I envy you. Every day will be a holiday."
If you like bats.
"Colonel Gregory is in desperate need of a governess for his children. He is an officer and a gentleman, well-thought of by his subordinates, and with a strict and sterling reputation. I feel sure he'll offer you no reason for another scandal." Adorna donned her glasses and read from Colonel Gregory's letter. "'While my home is isolated —"
Samantha whimpered softly.
"— The governess need not worry about her safety. The roads are patrolled by the local militia, which I organize and which is enforced by my men.' And a few paragraphs down, Colonel Gregory says, 'I offer a salary of four pounds a month, an allowance for tea and sugar and, with that, a half-day off every week. I will also allow the governess a week off a year to visit her family.'" She looked over her glasses. "Very generous. Much more generous than anything you can make here in London."
"But my lady, not even the locomotive will go there." If Samantha had to leave the City, she wanted to be assured she could return in a hurry. "That's why he's paying four pounds a week. No one would ever want to live out in the wilderness."
"Actually, that's not why." Adorna examined the letter. "I think it's the children."
Samantha tried to read the letter upside-down. "What's wrong with the children?"
"There is an abundance of the little dears."
Alarmed, Samantha asked, "What constitutes an abundance of children?"
Adorna consulted the letter. "Six, ranging in ages from four to twelve."
"Colonel Gregory's been a busy lad!" He must be a curmudgeonly chap who wanted a governess to care for his abundance of children so he could go chasing around the horrible countryside after vicious bandits. "My lady …" Samantha spread her hands, palm up, in appeal.
Adorna took off her glasses, folded them, and placed them on the table with a precision that boded ill for Samantha. "I am resolute that you shall take this position. You struck at Mr. Wordlaw's income, his status and his masculine pride. I cannot find you another position here in London — and I fear for your safety." Adorna stared at Samantha. "You are going to the Lake District."
back to Top