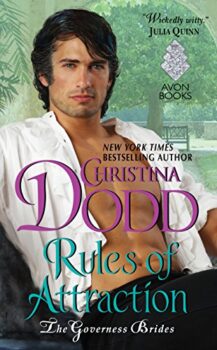 Governess Brides #4
January 5, 2021
Brilliance Audio
Available in: Audio, e-Book (reprint)
Rules of Attraction
To the owner of the Distinguished Academy of Governesses
Dear Madame Owner, I am looking for an experienced companion for my sweet, elderly, slightly dotty aunt, and that companion must be:
1. Tall, blonde and twenty-seven years of age.
2. Desirous of living in an ancient castle in an isolated area of Lancashire.
3. Not nervous about any sinister rumors about me.
4. You.
Sincerely, the newly titled Marquess of Raeburn
From the owner of the Distinguished Academy of Governesses
My dear, mysterious Lord Raeburn, Coincidentally, I fulfill all your requisites. However, as condition to accepting this position, I insist on the following:
1. That no interest be shown in my past.
2. That I have the free time to explore Lancashire for reasons that I will not divulge.
3. That you not bother to deny your culpability in the disappearance of your wife.
4. That we will not indulge in familiarity that will surely lead to another disastrous,
passionate interlude between us.
Sincerely, Hannah Setterington
Listen to an audio excerpt:

RULES OF ATTRACTION is my tribute to the gothic romance, with drifting fog, a cantankerous old servant and a mysterious master who's rumored to have killed his wife …
From out in the distance, lost in the mist, Hannah Setterington heard a creak and a pitiful groan. Then a clop, first one and then another, then another creak … she recognized those sounds. Someone in some kind of conveyance had topped the hill and was driving toward her. A glow formed in the fog, and a wooden cart rolled toward her and stopped. A lantern was hooked to the side, a scraggly-looking character held the reins of a sway-backed nag, and when he opened his mouth he let out a belch that smelled of ale even as far away as she stood. "Ye Miss Setterington? I'm Alfred. I'm supposed t' bring ye to Raeburn Castle."
"You're late." She stepped down the stairs. "My luggage is on the platform. There is a basket and a valise. Hurry and get them, and let's be on our way." He stared, open-mouthed, until she snapped, "Look lively now!"
Alfred responded like any dog to a sharp command, lifting his lip in a brief defiant show of teeth, then slithering out of the cart in obedience. Se lifted her skirt, pulled herself into the cart, and settled on the wooden board of a driver's seat. From behind her, she heard a piteous groan as Alfred hefted her valises onto the pile of hay.
"Come on, man, you don't want to keep your master waiting," she said.
He hoisted himself up beside her and lifted the reins. "He's not me master."
Startled, she asked, "Do you not work for the earl of Raeburn?"
"Fourth lord we've had in as many years."
"What ill fortune has brought about so many changes?"
"The family's cursed."
"Ah." She realized he must be one of those peculiar men who got pleasure from recounting silly yarns in the hopes of frightening his listener. "I'm familiar with such tales. So the family is cursed. By a gypsy? A witch? For what reason? Love thwarted? Revenge?"
"Ye're making fun, lady, but that doesn't change th' fact we lost two heirs t' th' estate ten years ago in a shipwreck off th' Scottish coast, then th' old lord died four years ago, then his cousin last year went off a cliff int' the ocean, then his brother from a fall down th' stairs, an' now we've got this blackguard who's no more than a distant relative an' who ain't even from Lancashire."
Hannah knew better than to believe any tale this ignominious servant reeled off, but if it were true, the tragedy could not be discounted. "You can't blame the current lord for the place of his upbringing," she said. "Rather judge him on his good works and care for the estate."
Alfred snorted. "Been here less than a year an' got things running shipshape, but what's that worth when he's a murderer of his own flesh an' kind?"
The wooden wheels hit the ruts so hard Hannah's teeth jammed together. Wisps of fog moistened her cheeks. But she kept her voice steady and disapproving as she said, "You should know better than to indulge in slanderous gossip about the man who carries the title of your hereditary lord."
'Twere th' gossip from his own personal servants, it 'twere." Alfred hunched his shoulders yet further and stared ahead sullenly. "Years ago, it was, he married a young lady, pretty as ye please, who was always laughin' an' teasin' him t' distraction, an' when they weren't lovin', they were fightin'. Fightin', fightin', fightin'. Then they'd love an' then they'd fight some more. His lordship's coachman says after one really big row, she up an' disappeared."
"That doesn't mean his lordship killed his wife."
"A female body was found weeks later, savaged by beasts. He went an' looked at th' body, said it weren't hers, but th' young wife's maid accused him t' his face o' killing her. He didn't deny it, just stared, grim as death, and he's nawt been th' same since. Never smiles, nawt a kind word t' anyone, an' rides th' estate at night. Saw him meself one night, his eyes burnin' an' fevered. If I were ye, miss, I'd get out while I could. A man who'll kill once'll kill again."
Probably Alfred was laughing to himself while she tried to surreptitiously ease the chill of goosebumps from her skin. Well, she wouldn't give him the satisfaction of knowing he had succeeded. In as tart a tone as she could manage, she retorted, "Even if His Lordship were the murderer you say, I doubt that I'll attract his notice."
Alfred shrugged. "It's yer funeral, miss."
The lights of the castle loomed out of the mist. Tilting her head back, Hannah looked up as far as she could, stunned by the massive pile of granite that rose so abruptly out of the ground.
"Almost seven hundred years old, parts o' it. Many a child born here, many a life snuffed." Alfred's rheumy eyes shone moist and morose. "Good fortune t' ye, miss."
A door opened and a large square of light shone out, and against it she saw silhouetted several shapes, four male, one female.
A woman's voice blending a faint Lancashire burr with gentility, called, "About time, Alfred. Come in, Miss Setterington, before the damp settles into your bones." She hurried Hannah inside and up the stone stairs. "The master's waiting for ye."
"I'd like to freshen up first," Hannah said.
"Ah, no. We don't keep the master waiting here. He's severe and likes his way." Mrs. Trenchard turned down a dim gallery and to a dark, ornately carved wooden door. "Here ye go. The master's inside the drawing chamber. He frightens some, but ye'll get used to his abrupt manner soon enough." Opening the door, she stepped inside.
Hannah followed her in and with a brief glance took in the small, comfortable surroundings. A fire burned on the hearth. Fresh flowers nodded in vases, and a gentleman stood with his back to the room, gazing out of the shiny, glass-paned window where beyond only black night and endless fog were visible. He was tall, broad-shouldered, long-legged, wore stark black and white. He clasped his hands behind his back..
He did not turn when Mrs. Trenchard announced, "Miss Hannah Setterington, my lord."
In a low, deep voice he commanded, "Leave us."
Hannah's breath caught. That voice. That tone. Her heart gave a thud. Then another. Then another, marking each second, each excitement, each fear. From the back he looked like … and the reflection in the glass seemed to be familiar. But she knew how wrong she could be. When he dwelt in her thoughts, all men looked like him. And yet … and yet …
Vaguely, she heard the door shut. Slowly, he turned to face her.
And the foreboding which had haunted her for nine years became reality.
This man had never killed his wife — because she was his wife.
back to Top