Yes, it's true. On February 2, 1990, I got The Call. HarperCollins wanted to buy my first book, a historical romance, CANDLE IN THE WINDOW. The time was 3:30pm.
This is an Event Worth Celebrating, so let me share Some Thoughts About Writing. Warning — this is Serious. (Christina waits for the dust from the stampede to settle, looks around at the empty room, and shows the qualities that have helped her survive so long in publishing—an immense ego and a willingness to talk into a vacuum.)
MY TOP TEN POINTS OF WISDOM
10. After ten years in the business, an author has A Well Established Career. After twenty, an author is an Expert. After thirty, she's a Venerable Institution … a Crone. Pardon me while I pluck the stiff white hairs off the chin of my current manuscript.
9. From my vantage point, everyone in publishing is doing better than I am. From everyone else's vantage point, I'm doing better than they are. The truth is somewhere in between — and an author who's published is not going to get any sympathy from an unpublished author who's written for ten years, finished three manuscripts and has twenty-five rejection letters. I know. I was that author.
8. I can't remember my characters' names, and I live with them day and night for months while I write their books. You might say I have a photographic memory…but I forgot to insert the memory card. So I apologize in advance, but I'm never going to remember your name, either.
7. How well an autographing goes is not an indicator of how well your career is going. Thank God.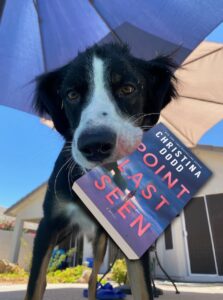 6. I've published fifty-nine full-length novels (POINT LAST SEEN, out now!), five short stories, and thirteen novellas in suspense, paranormal and historical romance. Some books are hard to write. Some books are easy. Some books are beloved by many. Some books are reviled by the vile. As the author I never have an idea which books will be my most popular. Never. I have to give up trying. Soon.
5. Editors are sometimes right.
4. Some people write mean reviews. I don't read them.
3. Some readers simply don't like my writing. That's okay, everyone has their right to their own taste — as long as they don't write mean reviews about my books.
2. Some readers love my books. Some of them write good reviews. Some of them write me heartfelt letters of appreciation. Some of them come to meet me and say wonderful things, occasionally with tears in their eyes. Some of them buy my books and never let me know. God bless them every one.
1. I am never going to understand what people mean when they say I write funny books. I write serious, meaningful, emotional, suspenseful books that somehow get translated into funny.
AND THE NUMBER ONE POINT OF WISDOM CHRISTINA DODD HAS TO SHARE IS:
1. When a Writer/Crone says she has ten points to make but there are actually more, it's not a lie. It's "Fiction."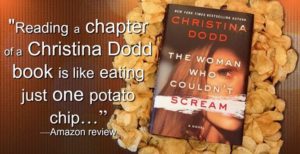 MORE NUMBER ONE POINTS:
1. Nine out of ten people in the U. S. want to write a book. One out of that nine thinks s/he'll do it "when s/he has a free weekend." In many states, it's a misdemeanor to kill this person.
1. Publishing is divided into two distinct occupations: Writing Books and Being an Author. Writing Books consists of being alone for months on end, creating imaginary people who converse, face challenges, and make love. Being an Author consists of introducing yourself to sometimes incredulous booksellers, talking to total strangers as they enter Wal-mart in the hopes of selling them a book, and interacting with publishers and editors in a manner that will convince them you're sane enough to write fifty-eight more books. This is why authors are schizophrenic.
1. It's well worth pondering that most people don't have a cool job that consists of being alone for months on end while creating imaginary people who converse, face challenges, and make love. It's worth the schizophrenia.
1. The more you write, the faster you write, the more skilled you become.

1. Spend every last dime of your first advance taking your family to DisneyWorld. Especially if you're poor. Publishing your first book is a life-changing event. Treat it like one.
1. The best thing a writer can have if she wants to be successful is a mother who believes she's wonderful. A husband who believes she's wonderful and supports her for ten years while she tries to get published helps, too. Failing those things, the most important thing an author can have is an absolutely brutish belief in herself and her talent, and she can never ever allow the facts to change that faith.
THE NUMBER ONE NUMBER ONE POINT:
1. The Girl Scouts have a song with the lyrics that go, "Make new friends, but keep the old. One is silver and the other gold." The Girl Scouts know a lot about publishing. And people. And my friends.
Thank you for a fulfilling thirty years, and I look forward to writing the next sixty books … for you.

(This blog was originally written on 04/18/07 and I continue to update it because it says everything I think and love about publishing, writing, my writing friends, and my wonderful readers.)
Join the Christina Dodd mailing list now for book updates and a free short story, THE WATCHER!
Here's my printable book list sorted by genre, series and in order.
Here's my "Books by Series" with covers; click to find excerpts and buy links.