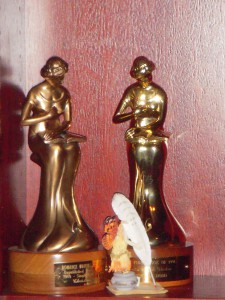 A lot of you know (if you've read my bio or heard me speak) that before I was published I spent ten years writing and not-writing and making excuses and writing badly and very slowly and not-writing some more and whining and writing for six years on a really awful, long, dreadful historical, then on a short contemporary, then on another historical set in Medieval England, then on another contemporary … then all of a sudden, the historical set in Medieval England sold and I was a published author.
And you're thinking, "But Christina, how could it be all-of-a-sudden when you'd been working toward that goal (sporadically, badly, but still working) for ten years?"
It's easy. One minute I'm writing on my fourth book because by now I'm convinced I've died and gone to unpublished hell, and the next the phone rings (on Friday, February 2, 1990 at 3:30pm, but who's counting?) and I've sold my first book.
That book was CANDLE IN THE WINDOW.
The first print run (the number of books printed to be sent out to the market) was 25,000 — a really, really low number.
The advance was $5,000 — also a really, really low number, especially if we figure a 40-hour week x 52 weeks a year x 10 years =  20,800 hours. We then divide that by $5,000 and realize that my salary for that ten years, I made a whopping 24 cents an hour.
Do I have a point other than to make you giggle?
Why, yes. Yes, I do.
In February 2007, after almost sixteen years of being in print, a Golden Heart award, a RITA award, a Romantic Times award, and its third, brand-new cover, CANDLE IN THE WINDOW was re-released.
You know what else happened in February 2007? On February 28, the same day I heard that TONGUE IN CHIC was on the New York Times bestseller list for the third week, I also discovered that the reprint of CANDLE IN THE WINDOW was on the same New York Times List.
TONGUE IN CHIC was my thirty-first book, and it was on at #12.
CANDLE IN THE WINDOW was my first book and was on at #34. It has been reprinted so many times I have no idea how many copies are in print, but I estimate over 300,000. I've earned out my advance. The book was given a print run of sixty thousand — more than twice the original print run, but tiny compared to most print runs that hit the New York Times. (Read an excerpt) Around my house, we call CANDLE IN THE WINDOW, "The Book That Will Not Die."
What were the chances those two books could land on the same New York Times bestseller list? Do you remember the saying, "There isn't a snowball's chance in hell?"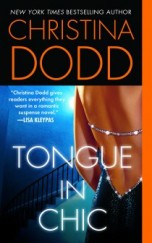 When I heard the news, I was so happy I couldn't stop laughing. Then I cried. The funny thing is — a few flakes of snow kept drifting past the window. Just every once in a while. And all I could think was, "Gee, I didn't know this was hell, but it's a great place to be."
Thank you so much for your wonderful support and your inspiring fan letters. I write for you, and that day was one of the happiest of my life.
I know it's corny, but the day CANDLE IN THE WINDOW hit the New York Times list was a big event in my life, so I get to be sincere. Hang on, this doesn't happen very often … If you want to do something badly enough — write, lose weight, get a degree — then do it. If it's too hard, quit. If you fail, take off some time to mourn or, better yet, whine. Then come back and try again. The Japanese say it very well — "Fall down seven times; stand up eight times."
Sometimes, that's exactly what it takes.
We're approaching my 30th publishing anniversary and we're going to have a fabulous celebration. Won't you join with me and my newsletter friends for the party? All it takes is your email address. Join here!