Our new greenhouse is built and operational! I know what you're thinking: Wow, The Husband got busy early this year!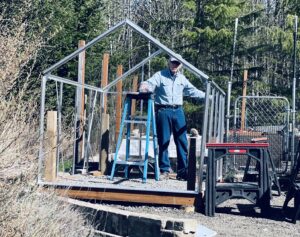 Yes, well, he knows how dedicated I am to my garden and he likes me to be happy.
Also, I'm a nag.
The truth is, we've been discussing a greenhouse for years. Our main goal in having a garden is to grow a tomato. Nothing tastes like a fresh tomato, ripened on the plant and warmed from the sun. Here in far NW Washington, our summers are damp and cool, the antithesis of tomato-growing weather, and all too frequently my tomato plants have been consumed by blight, stunted by cold and if the plants are lucky enough to do well…sometimes the tomatoes just don't have time to ripen. The longer we've lived here, the better we've gotten at growing tomatoes, but some summers there is no overcoming all the obstacles.
Thus the greenhouse discussion. We got serious when a neighbor bought a small 6×8 pre-fab greenhouse and raved about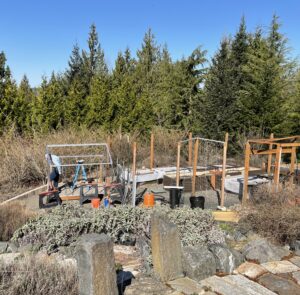 the results. We still hesitated; the price was $430.00 and when we added in all the additional costs, I figured we would be growing a $500.00 tomato.
It turns out I was optimistic. We bought the greenhouse, $430.00, brought it home, and decided to place it outside our garden in the sunniest spot on our property. Then The Husband  rolled up his sleeves and went to work on the foundation for the greenhouse. At this point, please remember what you know about The Husband's mode of construction; his work will outlast the pyramids.
Examples:
The Giant Treehouse
Last Summer's Walkway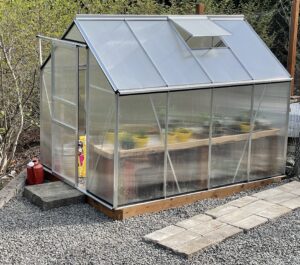 (BTW, he would like to point out that when the tree fell on our house, it did not cut through the roof into the kitchen because he had designed in seismic control and the tree landed on one of the steel supports on the back porch. So.)
The greenhouse foundation involved 4×6 boards, concrete, sand and gravel, more gravel for the surround, in fact, all the
gravel from the massive mound of gravel The Husband keeps for occasions just like this, and hours of unpaid labor (his.) (Yes, I did help, mostly by staying out of the way, but I am useful when The Husband needs more than two hands.) (No three-armed cover jokes, please.) Then there was the bench he built to facilitate my potting, the stones for the walkway… He figures we spent an extra $300 installing the greenhouse.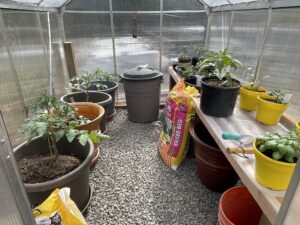 Inside are not merely tomato plants, but also pepper plants and cucumber plants (lemon cucumbers are a family favorite), and flower starts. Every time I step inside I smell green growing things, which contents my soul. The Husband lingers inside, too, so I suspect he loves the heat and the scents.
But when all is said and done, it's still a $730.00 tomato.
Want to find out if we get more than one tomato? Perhaps a few peppers, cucumbers, some basil? Join my newsletter for updates, and I'll even tell you about books like POINT LAST SEEN, which is my newest full-length suspense, with more set-in-Gothic stories ready to follow very soon. Do join; I'd love to welcome you. 
Updated Printable book list sorted by genre/series/in order.
Books by Series list with clickable covers.