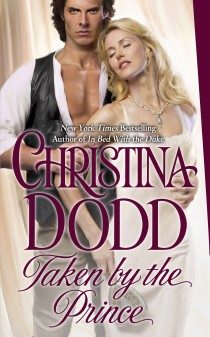 You can order TAKEN BY THE PRINCE: Governess Brides #10, at these online retailers:
TAKEN BY THE PRINCE: Governess Brides #10
Description
"Bestselling Dodd's latest is the literary equivalent of a case of bubbly."—Booklist about TAKEN BY THE PRINCE 
Only Victoria knows the truth about dashing, dissolute, dangerous Saber Lawrence—that he is a renegade prince plotting to seize control of his country. To ensure her silence, Saber kidnaps Victoria and carries her away to his castle deep in the woods. There they hide the truth about their past: a glittering ball, angry words, a passionate kiss. He vows to vanquish her reserve…but soon finds an English governess is not so easily seduced…
"Wickedly witty," — Julia Quinn, author of Bridgerton
The Governess Brides Series in order:
Excerpt
The inspiration for TAKEN BY THE PRINCE was nothing less than the venerable sweep-you-away romance, THE SHEIK. And like the hero in THE SHEIK, Raul Lawrence will do anything to possess the woman he desires. One reviewer said, "Some readers will flinch at scenes of aggressive seduction." You have been warned! TAKEN BY THE PRINCE is not for the faint-at-heart or those who are easily shocked.
"You're beautiful," Raul said. "That you know."
"I'm passable," she corrected, "and I've reached the age of being a spinster."
He snorted. "You've reached the age where you're no longer a twit. You're a woman, and a damned fine looking one. A man, if he were so inclined, could take you to the Mediterranean pirates and sell you for a tidy sum. I suppose you're still a virgin?"
Her face flamed. "Mr. … Lawrence!"
"So you are. Yes, a tidy sum. Or I could keep you here as my plaything, tame you myself."
"I am not a wildcat!" The place where he held her, his hands to her arms, grew hot, as if his touch was causing friction.
"How would you know? You just admitted you're a virgin."
"I most certainly did not!"
"So you're not a virgin?" He grinned as he watched her struggle with the answer.
Finally she settled on, "Whether I am or not is not your business."
"My dear Miss Cardiff, I would like to make it my business."
TAKEN BY THE PRINCE: The Governess Brides #10 is a full-length historical romance. Follow the links at the left to purchase your copy now, or visit your favorite bookstore!
Please join my mailing list so I can notify you when my new titles are released!