Christina Dodd's Charro Beans
One of our favorites! I learned how to make Charro Beans after we moved north where we have no restaurants who make them. Easy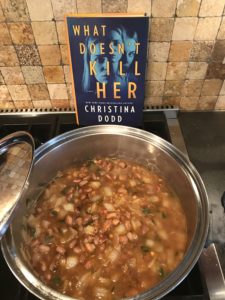 to make and tastes great!
1. Soak 1 lb. pinto beans
2. Fry ¾ lb. of bacon. Drain off some of the fat (I mean, really! That's a lot of fat!)
3. Mince ¼ cup garlic (I use a garlic rocker.)
4. Add 1+ cup chopped onion to pot, fry until transparent.
5. Add garlic + 1 tablespoon cumin + 1 tablespoon chili powder+3 tablespoons cilantro. Fry until fragrant.
6. Add soaked, softened pinto beans, bring to boil, turn down heat as low as possible, and cook until beans are done.
7. Your dinner is almost finished, so sit and read a good book. May I suggest WHAT DOESN'T KILL HER: A Cape Charade Suspense?
8. Right before you serve, add chopped tomatoes. Fresh is best, but tonight I'm using canned. Sprinkle with cilantro. Sooo good and reheats wonderfully!
Join Christina's mailing list for book and recipe updates!
Christina's printable/downloadable book list sorted by genre/series/in order.
Christina's Book by Series page.