Christina Dodd's Thai Shrimp Soup
I used to get this soup in a beloved restaurant…that moved away. I've been trying to re-create it by scouring recipes in my cookbooks and online, and finally have this slap-dash recipe. I make it for my lunch because it's easy and light and adapts well to additions. It would also make a great first course. You'll have to eyeball the amounts depending on how many you're cooking for. See if you like it!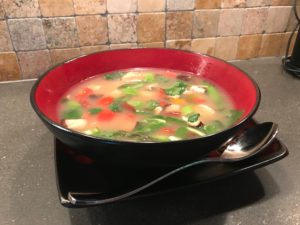 Chicken broth
Fish sauce (when I'm making it just for me, I use 1 tablespoon)
Chunks of jalapeño or serrano pepper
Shrimp shells
Ginger and garlic smashed
Cilantro stems
Simmer 20 min/strain/discard everything except broth. Return to pot/simmer, add:
Shitake mushrooms in chunks (any meaty mushroom would be great.)
Tomatoes (I used cherry cut in half)
Simmer a couple of minutes
Shrimp ( I used large cut into chunks)
Simmer 1 minute until pink
Pour into bowl over cilantro leaves, lime juice, bean spouts, jalapeño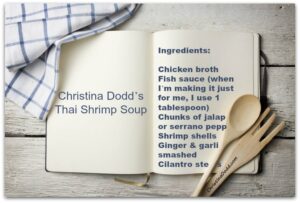 I've made these additions depending on mood and what I've got that sounds good:

Wild rice which added heft and fiber
Asparagus cut into small pieces
Sugarsnap peas
Frozen okra
It's great no matter how you prepare it. Enjoy!
You can find more recipes here.
My printable/downloadable book list sorted by genre, series and in order.
Here is my "Books by Series.."
Join my mailing list for upcoming book information!
I answer the question Where Do You Get Your Ideas?
The story of my Stone Circle.