Mrs. Santa's Cheese Crackers
     Luca picked up a cheese cracker and crunched into it. His expression grew blissful. He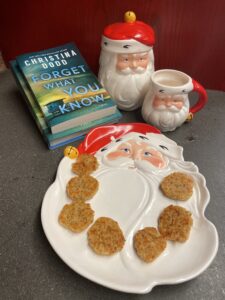 ate another one. More bliss. Zoey hadn't seen him look so euphoric since the last time she…
     Nope. Not the time or the place to think of that. There would never be a time or place to think of that.
     "You've made a hit with Luca," she told Mrs. Santa.
     "He's a big man. I'll get him his own plate." Mrs. Santa hurried away.
     "Spoiled." Zoey took a cracker and said, "I told you, every woman in the world wants to spoil you rotten."
     "What? All I did was like her crackers." He nibbled on one. "Butter. Flour. Cheddar, I think. A little cayenne. But what makes them so crunchy?" — from FORGET WHAT YOU KNOW 
In the small town of Gothic, California, Mrs. Santa's tearoom is decorated (or over-decorated) in Christmas décor: "walls covered with framed Christmas prints, Christmas-themed ceramics, English porcelain Christmas-painted plates on decorative hangers. Santas decorated the light switches. Painted evergreen branches climbed the table legs and Christmas tree bulbs dotted the wallpaper." Mrs. Santa serves the usual tearoom fare: delicate sandwiches with no crusts, curried chicken salad, scones with clotted cream and lemon curd and, of course, steaming hot tea served in Santa teapots. Her pièce de résistance is a Santa plate filled with her famous cheese wafers. They have a special crunch, and she recently allowed me access to her secret recipe… Sh! Don't spread this around.
1 ½ cups shredded extra sharp cheddar cheese
½ cup unsalted butter, softened—Mrs. Santa uses Kerrygold
1 cup all purpose flour
½ teaspoon salt
½ teaspoon. dried mustard
½ teaspoon cayenne (less or more depends on your taste)
1 teaspoon Worcestershire sauce
1 ½ cups corn flakes cereal, crushed
Ice water
Process cheese and butter in food processor until blended. Add flour, salt, dried mustard and cayenne. Pulse until blended. Add cereal, process until blended. Add Worcestershire sauce.
Here's the tricky part. Add ice water, one tablespoon at a time, and toss lightly. How much?
Depends on where you live and the time of year. Humidity makes a huge difference. What you're looking for is the mixture to cling together when you press it between your palms. If you make your own pie dough, think of that. Once you get that consistency, roll it into a one inch diameter log, wrap it in plastic wrap and refrigerator for at least four hours.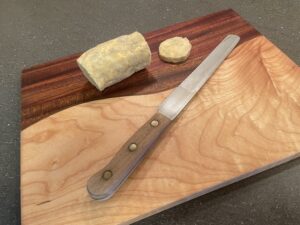 When you're ready to bake, heat oven to 350 degrees Fahrenheit. Cut log with a serrated knife into wafers. Bake on a sheet 12-14 minutes until lightly browned. Cool on wire rack. Store in airtight container (they are fragile!) and serve them on a Santa plate to your best friends.
Mrs. Santa's crackers freeze well, make delightful gifts. I must confess, the first few times I made them, I didn't put them in the refrigerator and I didn't have crackers, I had cracker crumbs. But (and I can't say this enough) they taste so good! I topped pork taco salad with them, I sprinkled them on mac and cheese, I used them as a finish for easy rosemary and garlic roast potatoes.
To learn more about Mrs. Santa's tearoom and her fabulous cheese crackers, read FORGET WHAT YOU KNOW, a full-length suspense set in Gothic.
Become a mailing list friend for breaking news about more recipes and stories set in Gothic, California.
Printable/downloadable booklist sorted by genre, series and in order.
Books by Series with covers and link