Shrimp and Avocado Salad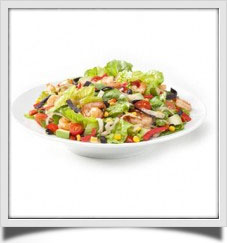 I lived in Texas for a long time, and it has instilled an almost maniacal love of fresh shrimp. I can make almost anything with shrimp: garlic roasted shrimp, BBQ shrimp, seafood gumbo with plenty of shrimp and okra. But let's face it, there is nothing like cold, boiled shrimp. It's refreshing and simple and just darn good.
Shrimp and Avocado Salad
This is a great summer salad, especially if you're near a farm stand where you can get local, fresh tomatoes. I prefer California avocados for this recipe.
½ lb. shrimp (about 35-40), peeled and deveined
2 ripe avocados, peeled and sliced
2 ripe beefsteak tomatoes or 2 pints grape tomatoes, washed and roughly chopped
½ cup fresh mint, chopped
½ jalapeño, seeds and ribs removed, sliced
¼ cup lime juice
2 Tbsp. fruity olive oil
½ tsp. dried chile flakes
½ tsp. salt
Boil the shrimp in water for about two minutes. They're done when they're shaped like a C. Combine the next four ingredients (avocados through jalapeño) in a large bowl. Combine the following four ingredients (lime juice through salt) and pour over veggie mixture. Add shrimp and toss to coat. May be served warm or cold. Try it on a bed of lettuce. Sprinkle some crisp tortilla slices over the top.
Note: If you're a fan of cilantro (like me!), feel free to substitute it for the mint. You can also add cucumber or zucchini or green onions to this recipe. And although I've never tried it, I bet jicama would be amazing as well. So go crazy with your veggies and herbs!
Pair this scrumptious salad with a very chilled Viognier or Riesling with citrus flavors. Or mix yourself some fruit-filled white wine sangria!