Christina Dodd's Easy PORK TACO SALAD
My favorite easy meal when I've got a lot of vegetables and some kind of leftover cooked meat from dinner the night before. Today I had leftover pork chops, but you can use hamburger, steak, chicken (rotisserie chicken from the grocery store!), whatever you have. Tofu? Sure, and you could leave all meat out and use beans. I didn't include amounts because that's what this salad is about—the ability to up the amounts if there's more than one person eating, or delete ingredients you don't like, or add ingredients you do.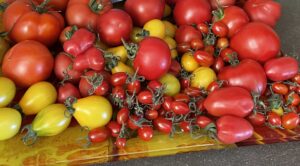 Veggies for salad (wash and dry them, cut in bite-sized pieces, put in a bowl):
Lettuce, cut or if you're going to use it later, torn
Tomatoes…right now I have tomatoes out of the garden, but in the winter cherry tomatoes are great. I like the multicolored.
Onion or scallions, chopped
Cilantro leaves (If you love cilantro! If you violently hate it, leave it out!)
Avocado
Jalepeno (I like fresh, but no matter what you use, check on the spice level! It varies greatly.)
Olives, I usually use canned sliced ones but if I have some from an olive bar, I'll cut those up and add them.
Meat:
Olive Oil (a dribble, heated in a non-stick pan)
Leftover cooked pork chop, sliced into sticks or small chunks
Cumin
Chili powder
When the olive oil is hot, add the cooked pork, stir it, add cumin and chili powder (for one serving, 1/8 teaspoon each, more depending on how much flavor you like. You can always add but taking it away is tough. Stir until meat is coated with spices and slightly browned. Remember, I'm using meat that's already cooked through, so this is fast!
Shredded cheese, type depends on what kind of cheese I have and how hearty a meat I'm serving. With steak I'll use a sharp cheddar, with chicken a milder colby jack.
Tortilla chips
Optional
Black beans (I use canned, warmed in a pan or microwave. Leftover homemade beans are even better.)
Corn (canned, frozen or fresh, warmed in a pan or microwave)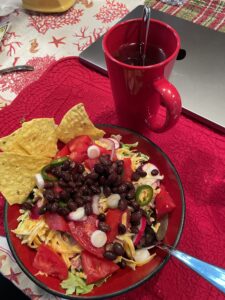 Assemble:
Your salad is prepped in the bowl. On top you add cheese, meat (and beans and corn if you're using,) and add tortilla chips on the side. Add picante sauce or sour cream if you like. How easy is that? Eat with a fork.
If you're a disciplined person, you get out a certain number of chips and put the bag away. If you're like me, you leave the chips on the table because there's never enough tortilla chips.
If you're wondering why The Husband didn't have taco salad for lunch…when we eat at home, everyday EVERYDAY he has a pastrami sandwich. I don't get it. I'd be so bored. But as long as he's happy, I'm happy.
When you check out my Wine and Food pairings, you realize I'm in love with hearty salads. Yet the most popular recipe is (of course!) Mac and Cheese.
The next suspense has a controversial cover. What's your opinion?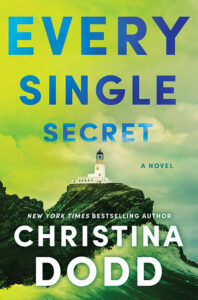 While you're on my website, put more fun in your life— Join Christina's mailing list and be the first to hear about my upcoming titles!

Christina Dodd's downloadable/printable book list sortable by date/title/series, including her complete suspense series, Last Seen in Gothic.
Christina Dodd Books by Series. Click covers to read excepts, listen to audiobook chapters and find buy links.
Christina Dodd and the Infamous Three-Armed Cover