Christina Dodd's Black Bean Salad
A few of the Seattle authors had a Christmas get-together at Debbie Macomber's house, and I took black bean salad. You know black bean salad — it's easy, it's delicious, it's festive. I asked Debbie if she wanted to keep the leftovers, and she said, "Yes!" The next day, she sent me a note saying, and I quote, "ATE THE WHOLE THING.  Loved it… What did you use for the dressing?"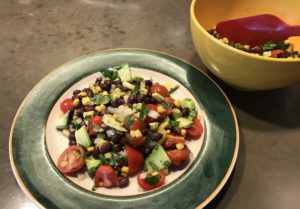 Debbie's kind comments inspired me to give you my version of Black Bean Salad, so…
Salad:
1-2 cans black beans, drained and rinsed (You can use beans you cooked yourself, of course.)
Corn (I used canned, frozen or fresh, one half as much corn as beans)
Jalapeno, chopped fine (check for heat before you decide how much to use)
Onion, chopped fine, to taste
Tomatoes, lots! cut into bite sized pieces (Any fresh tomato will do; I like the variety cherry tomatoes. They're good all year long and so colorful!)
Avocado, lots! cut into bite sized pieces (I like avocado.)
Cilantro, lots! chopped (Yes, it's true, I like everything in this salad.)
Dressing:
4 tablespoons extra virgin olive oil
3 tablespoons lime juice
1 tablespoon red wine vinegar
S&P
I prefer an acid salad dressing, but if it's too much you can add more olive oil. Since for the party I was making it the night before, I did something I've never done before, and that is add the chopped onions and jalapenos to the dressing so they would mellow. I would do that again. You can add the beans and corn the evening before, too. The tomatoes, avocado and cilantro save to add at the last minute. Mix gently.
Isn't that gorgeous? And so versatile!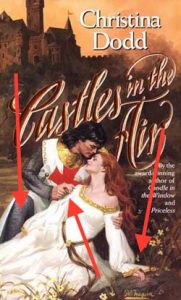 Serving suggestions:
As a dip with tortilla chips.
As a filler for tacos.
For a heartier meal, on a bed of lettuce with cooked chicken breast on top.
Now that I've talked about it, I'll make it again for myself. Today! I hope you enjoy it, too!
The EVERY SINGLE SECRET cover has been revealed…and it's controversial! What's your opinion? Take the survey.
Join my mailing list for upcoming book information and glimpses of the writing life!
You might enjoy my cheese plate, and my pork rack, my ever-popular mac and cheese,  and Christina Dodd and the Infamous Three-Armed Cover.
Christina Dodd downloadable/printable book list sorted by genre/series/in order.
Christina Dodd Books by Series. Click covers to read excepts, listen to audiobook chapters and find buy links.