Christina Dodd's Unwrapped Asian Chicken Lettuce Wraps
I have a confession: I grind my own chicken.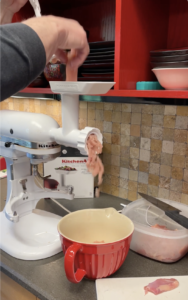 I know, I know. But you already know I'm eccentric. Maybe, though, you don't know I'm cheap…er, thrifty. The stores charge a fortune for ground chicken and I can catch chicken breasts on sale and grind them with the attachment for my Kitchen Aid mixer for a lot less, and package them just the right size (6 oz) for my lunch, and freeze them. Since I already had the mixer (when The Husband bought it for me, you had a choice of white or white, which tells you how old it is) and the attachment, it makes economical sense. Sometimes I buy a whole chicken, cut it up, grind the breasts and thighs, freeze the legs and wings for grilling, and use the scraps to make chicken broth. Really, I'm a pioneer woman!…if the pioneers had electricity.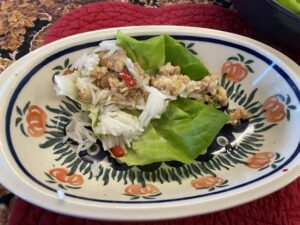 I do a lot with ground chicken: chicken tacos, obviously, curried chicken pita wraps, chicken burgers, but my favorite is the fast and easy Asian-inspired chicken lettuce wraps, especially since I don't actually use the lettuce leaves to wrap the chicken, I just cut it up and fling all the ingredients on top and eat it. Yep. Pioneer woman…and incurably lazy.
This recipe is for one. If you're feeding two, double it. Four, quadruple, etc. It is, btw, low cal, but that's not why I make it. It tastes great!
You'll need:
1/2 cup Cooked Rice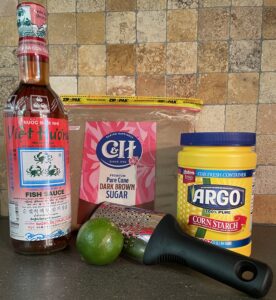 Cooking Sauce Ingredients:
1 tablespoon Fish Sauce
1 tablespoon Lime Juice
1 teaspoon Brown Sugar
¼ teaspoon Corn Starch
Place in small bowl, whisk together, set aside.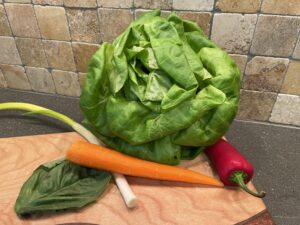 Create a serving bowl of salad made up of:
Torn Butter Lettuce (or other leaf lettuce, but butter lettuce is lovely with the flavors)
Grated Carrot to taste
1 Green Onion (scallion), chopped
Fresh Basil, chopped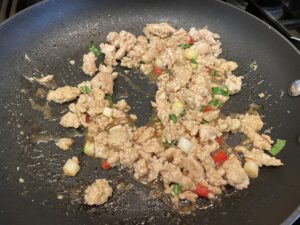 Place a non-stick pan over medium heat with 1 teaspoon oil (peanut, vegetable, olive) and when the oil is shimmering, add:
6 oz Ground Chicken
Lime Zest from ½ lime
¼ teaspoon (or more to taste) minced chili (Jalapeño, Thai, Fresno, Serrano, something with a little heat)
Cook and mix until the chicken is no longer pink and is slightly crusty, about five minutes. Whisk the sauce to recombine and add to the pan, stirring constantly until it's thickened and covers the chicken.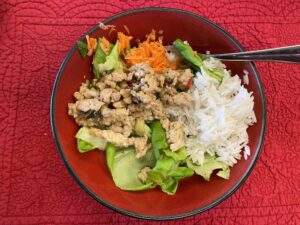 Add the rice and the chicken to the salad greens and enjoy!

Of course, if you like a beautiful presentation and are not incurably lazy, you can use individual leaves and wrap some of the chicken mixture and rice in each one. It's lovely and will wow your friends.
Other recipes you'll enjoy:
Nonna's Chocolate Chip Cookies
Lillian's Easy Cream Cheese Dip
Christina Dodd's Mac and Cheese
Put more fun in your life; Join Christina's mailing list!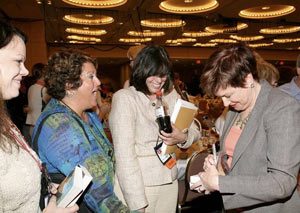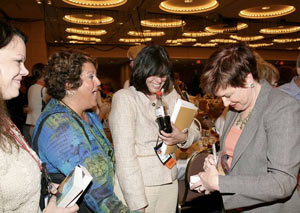 Christina Dodd's downloadable/printable book list sorted by genre/series/in order.
Christina Dodd Books by Series. Click covers to read excepts, listen to audiobook chapters and find buy links.
Christina Dodd and the Infamous Three-Armed Cover