Virginia Dodd's Candied Walnuts
When I was a kid in California, we had a walnut tree. A big walnut tree. That produced an abundance of walnuts.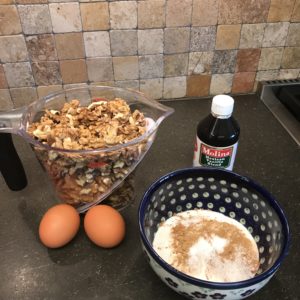 We used to invite the whole family over to shell walnuts and freely gave them away, and my mother, Virginia, used to make candied walnuts that made grown men cry for joy and beg for more. It's so easy and so good and works with any kind of nut. Give it a try!
Ingredients:
2 egg whites
2 teaspoons water
2 teaspoons vanilla extract
4 cups walnuts, large pieces are best
1 cup granulated sugar
1 tablespoon ground cinnamon
1/2 teaspoon salt
Pre-heat oven to 300 degrees.
Use a whisk to whip the eggs whites with the water and vanilla until foamy. I whip until my arm is sore.
Toss the walnuts into the whipped egg whites and toss until covered.
Mix sugar, cinnamon and salt in a large zip plastic bag. Add the walnuts. Toss until coated.
Spread the nuts on a parchment paper lined cookie sheet. Bake for 40 minutes. Stir at 20 minutes. You want the nuts to be dry but not burned.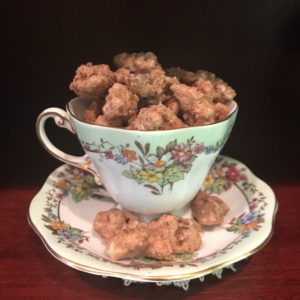 Here they are served in one of my mother's cherished china cups.
Prepare for grown men to cry when you serve these nuts.
Thank you, my dear Mother, for the lovely memories and a great recipe.
My printable book list sorted by genre/series/in order. 
 My Books by Series list. 
Join my mailing list for book news, contests and intriguing personal glimpses of the writer's life.