Christina Dodd's Most Excellent Pasta Primavera Salad
Whenever I make pasta primavera salad, I think, "Why don't I do this more often?" It's gorgeous, it's good for you, it's easy and it tastes fresh for days. Correction: I think it probably tastes fresh for days, we always finish it in one or two meals…
First, make the dressing: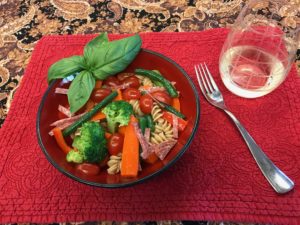 1 garlic clove put through a press (use more if you like garlic)
2 tablespoons lemon juice
2 tablespoons red wine vinegar
6 tablespoons fruity extra virgin olive oil
salt and pepper
Shake or whisk. (I like very acid dressings, so I use more lemon juice and vinegar. I've also occasionally added a teaspoon of Dijon mustard. Yummy!)
Cook pasta (I use Barilla whole wheat rotini) until very done. (If you cook it al dente and chill it, it tastes raw.) Drain pasta, place in bowl, re-mix the dressing and pour while the pasta is hot and ready to absorb the flavors. Refrigerate until cool.
Vegetables…I use what I have in the refrigerator. In the pictured pasta salad, I used green beans, broccoli, carrots, asparagus, red sweet peppers, zucchini, frozen peas, tomatoes, green onions.
To tame the crunch on the very crunchy vegetables, you can:
Toss the veggies in olive oil and roast them in a 350 oven.
Fry them on the stove with olive oil.
I'm lazy. I've already got a pot of boiling pasta water, so I use that to blanch them.
The tougher veggies are blanched longer. So…into the boiling water, add bite-size pieces of:
Green beans
Broccoli
Cook 2 minutes, then add:
Carrots
Asparagus
Cook 2 minutes, then add:
Sweet red peppers
Zucchini
Cook for 1 minute; everything should be beautifully bright when you remove the veggies. Immediately plunge them into a large bowl of ice water to stop the cooking process.
As soon as everything is chilled, mix the veggies into the pasta, add the frozen peas, sliced green onions and halved cherry tomatoes.
For the pictured salad, I added thinly sliced salami, shredded parmesan cheese and lots of fresh basil.
I've also prepared pasta primavera salad with:
Cold cooked shrimp or chicken
Lemon Basil Pesto (and eliminated the fresh basil)
Smoked gouda
Mushrooms
Yellow squash
Snow or sugar snap peas
Dried tomatoes in olive oil
A sprinkle of parsley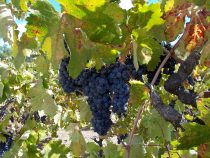 And, oh gee, you can eat it hot. Then it's not pasta primavera salad, it's (guess what?) pasta primavera.

The possibilities are endless! For your meal setting, I suggest a patio or a park. For your wine, drink a lovely, grassy Sauvignon Blanc or a mellow red blend. For your reading pleasure, may I suggest SECRETS OF BELLA TERRA, a suspense set in the California wine country where food and love are arts to be savored slowly…

Christina Dodd and the Infamous Three-Armed Cover

You can find my printable book list here.

Here is my "Books by Series and in Order."

Join my mailing list for upcoming book information!

Christina Dodd's Mac and Cheese