Christina Dodd's Caprese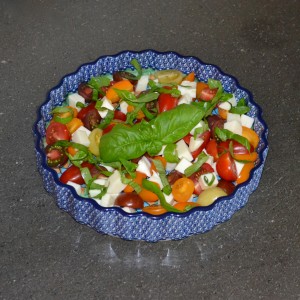 I don't usually make pretty food (although it always tastes good) but I thought this caprese salad was gorgeous. And for those of you who are going to recommend I use a melon baller to make the mozzarella round…oh, please. See my previous comment about pretty food. I do *not* own a melon baller.
This isn't so much a recipe as a, "Here's how you slap this together."
— Ripe tomatoes, heirloom or otherwise, cut into pieces.
— Fresh mozzarella, cut into pieces.
— Fresh basil, sliced thin.
— Good balsamic vinegar
— Good olive oil (on the vinegar & OO, I read reviews so I know I've bought the good stuff. And no, I don't spend a fortune, although you can.)
Combine the tomatoes & mozzarella, sprinkle with basil, drizzle with vinegar & OO, eat and make nummy noises. (No wine with this one — wine and vinegar cancel each other out and you can't taste either one. Save the wine for the entrée.)