Lillian's Easy Cream Cheese Dip
Family friends and neighbors Chet and Lillian Gilmore loved to entertain, and Lillian was a marvelous cook who wasn't afraid to experiment with new foods and recipes. The first time I had Chex Mix, she was the one who served it, and to this day my family uses her recipe. Lillian was one of my important cooking influences.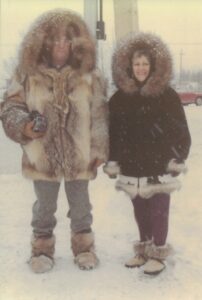 When I was a kid, Chet and Lillian moved to Alaska, and while we missed them, they sent wonderful gifts we still treasure today. When she died, Lillian was almost 104 years old, and WRONG ALIBI is dedicated to her:
For Lillian
Thank you for friendship
Thank you for love
Thank you for wisdom
Thank you for Alaska
All God's blessings on your new journey
Food is a wonderful link to dear friends, and we never make Lillian's quick and easy cream cheese dip without remembering her.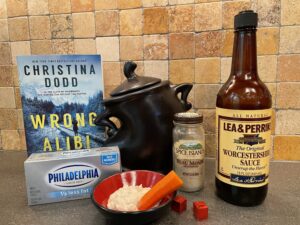 8 oz cream cheese, regular or reduced fat, softened
¼ cup boiling water
2 beef bouillon cubes
½ teaspoon Worcestershire sauce
1 scant teaspoon Spice Islands Beau Monde seasoning
Dissolve the beef bouillon cubes in the boiling water. Mix with the softened cream cheese (I use reduced fat), the Worchestershire sauce and the Beau Monde. You might start with a little less Beau Monde and adjust to your taste.
The dip is very salty so we don't serve with chips, we serve with a mixed raw veggie platter. We eat a lot of raw veggies that way. As an aside, I've never had a recipe for this dip, I always fling it together without worrying about amounts, and when I went looking for it online, I didn't find it anywhere. I had to drag out the measuring spoons and create the recipe through trial and error. I hope you enjoy it as much as we do!
Try another recipe! Virginia Dodd's Candied Walnuts.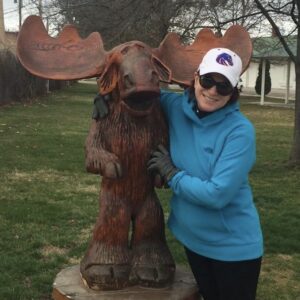 Read an excerpt and listen to an audio clip of WRONG ALIBI, a Christina Dodd suspense! In the Alaskan wilderness, the hunted can become the hunter…
Join Christina's mailing list for book and recipe updates!
Christina's printable/downloadable book list sorted by genre/series/in order.
Christina's Book by Series page with clickable covers that lead to excerpts and buy links.