Christina Dodd's Lemon Basil Pesto
Recently I lost a dear friend, and the world lost a wonderful talent. Versatile author Susan Sizemore wrote historical romance, time travel, and vampire novels. I was in a plot group with Susan for years, and she was always the one who would come up with the most original plot twists growing out of an imagination unlike any I was ever privileged to know.
Susan also knitted (I've got a pair of socks I love) and she was a cook. She gifted this recipe to me for those moments in summer when my basil has grown out of control. I've tweaked the recipe — I'm a world class tweaker — and now I offer it to you.
Ingredients:
2 cups fresh basil leaves, rinsed and spun dry in a salad spinner
3 tablespoons toasted nuts (Pine nuts are the norm and wonderful, but we have an abundance of walnuts, I used them.)
3-7 garlic cloves (Amount depends on how fresh your garlic is—fresh garlic is milder—how much you like garlic, and how many of your friends and neighbors you want to alienate.)
½ cup grated parmesan or other hard cheese
¼ teaspoon salt or to taste
¼ cup extra virgin olive oil
¼ cup fresh squeezed lemon juice
Put the basil, nuts, garlic, salt and cheese in the food processor. Start it and as the ingredients mix, pour the olive oil and lemon juice through the feed tube. When the mixture looks spreadable (30 seconds?), it's done.
I divided the pesto among snack sized baggies, put those baggies in a larger, labeled baggie, and froze the whole thing. Because pesto is strongly flavored and it doesn't keep (when exposed to the air for any length of time, the basil turns black), it's best to freeze it in small amounts.
Why I prefer this pesto:
Traditional pestos use only olive oil as the liquid. By swapping out half lemon juice, the pesto has a brighter, lighter flavor. It's also less calories, but my family loves it for the taste. Remember, it is strongly flavored and a little goes a long way.
You can use this pesto on pasta, pizza, and crostini, to make a killer primavera salad, or to mix with mayonnaise for a tasty sandwich spread. It's great on baked fish and grilled shrimp. Offer it at the table as a stir-in for soups, especially minestrone. Mix it with softened butter to spread on bread or, if you're a baker, mix it (or swirl it!) into your bread dough. Pesto is a creative, colorful addition to your menus, and when it's served with a hearty red wine — think Cabernet Sauvignon or Zinfindel — it makes a marvelous summer meal.
Thank you, Susan Sizemore, and farewell. I love you and miss you.
If you're not already a newsletter friend, what are you waiting for? I'd love to welcome you as a newsletter friend. You'll enjoy book updates, book sales, surveys, and humorous insights to the writing life. Join!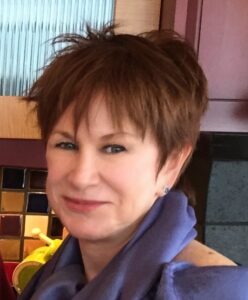 Want more Christina Dodd recipes?
You can find my printable book list here.
Here is my "Books by Series and in Order."