Lemon Nutmeg Scones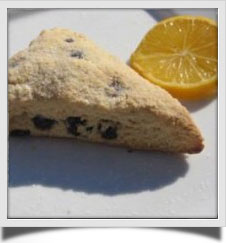 When my oldest daughter was in Girl Scouts, we attended a Christmas mother-daughter tea, in Sugar Land, Texas, at the Sweetwater Country Club, a posh and grandiose place with waiters and white tablecloths. We dressed up, took homemade strawberry shortcake to the event, and thoroughly enjoyed making polite conversation while sipping a cup of tea with our pinkie fingers extended.
We took away from that tea more than good memories and mother/daughter bonding. We also took away a recipe my family has treasured ever since: scones made with lemon yogurt and nutmeg, sprinkled with sugar. They were amazing, and best of all, the mother had made copies of the recipe for us to take.
Now I pass it on to you!
Lemon Nutmeg Scones
1 ¾ cups flour (I do half all-purpose and half wheat)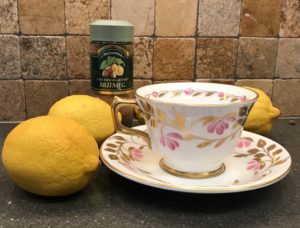 ¼ cups cornstarch
1 tsp. baking soda
¼ tsp. nutmeg
6 tbsp. margarine
8-oz. carton lemon yogurt
1 tsp. lemon peel
1/3 cup golden raisins
2 eggs
4 ½ tsp. sugar
1/8 tsp. nutmeg
3 oz. package cream cheese, softened
Combine first four ingredients, blending well. Cut in margarine with pastry blender until mixture resembles coarse crumbles.
Combine ½ cup yogurt, lemon peel, raisins, and eggs; add to dry ingredients and stir until just moistened.
On a greased cookie sheet, press dough into a 9-inch circle, ¾ inch think.
Combine sugar and 1/8 tsp nutmeg and sprinkle evenly over dough.
Using a knife or dough scraper coated in Pam cooking or baking spray, cut dough into 12 wedges and slide them apart so the wedges are 1 inch from each other. You could use a scone pan, but I never have. I'd love to know if it makes the process easier. Anyone know?)
Bake at 450 degrees for 7 to 10 minutes.
Combine remaining yogurt with cream cheese and serve with warm scones.
As with all my recipes, there's definite wiggle room. I admit I added the lemon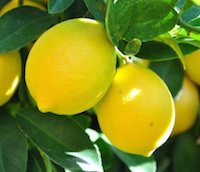 peel to the recipe because I love, love, love extra lemony goodness. If you're not a fan of the tart taste, take it out! You could substitute blueberries or currents or cranberries for the raisins, or serve them plain (I do.) I never make the cream cheese dip — that would be gilding the lily.

Of course, this is supposed to be a food and wine pairing. But as much as I love wine, I find it's not much of a breakfast food (mimosas excepted). Instead, let's talk tea. These scones go well with English breakfast tea, or Republic of Tea's Ginger-Peach tea. Best of all is a good, hearty Earl Grey.

No matter what holiday you celebrate, I hope you have a wonderful time with family and friends and food, and may your scones always remain crisp and tart.

Warmly,

Christina Dodd
New York Times bestselling author who invites you to join my newsletter for book updates, book sales, surveys, and humorous insights to the writing life.

Printable booklist