Christina Dodd's Greek Salad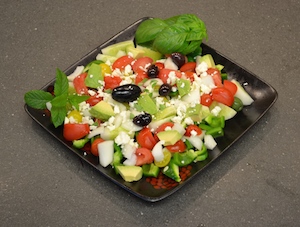 Every year my husband and I have a garden. Since we live in Washington state far enough north we can see Canada from our front door, the summer weather is sometimes less summery than one would hope, and in those years, the garden is a total failure. I'm telling you this as an excuse; this year when it's been warm, sunny and dry, and THE CUCUMBERS ARE WINNING! We eat two or three a night and harvest seven every day. We're giving them away and I'm frantically looking for cucumber serving ideas. My daughter reminded me of this classic Greek salad, and since it's easy easy easy, we've been eating a lot of it. Give it a try.
— Cucumbers, green or lemon, peeled
— Green peppers
— Mild onion (I've been using Vidalia, but Walla Walla would be good, too.)
— Fresh tomatoes (we're getting red and yellow out of the garden, both cherry and large, and they're all good.)
— A little oregano, fresh and chopped fine or dried leaves
— Fresh mint leaves, torn
— Feta cheese
— Olives: kalamata olives are traditional, but I've been trying different varieties and that's fun.
— Extras: artichoke hearts, avocado (not traditional at all, but if I have a ripe one, why not?) If you want to make it a meal, chicken breast (poached, grilled, or from the deli) is lovely. Really, whatever appeals to you.
Dressing: A good red wine vinegar OR lemon juice OR combination of both, fruity olive oil, (I use about half and half, but that's a matter of taste), tablespoon of capers, a *little* fresh minced garlic and a sprinkle of minced parsley. Shake thorough.
Cut everything in chunks. Fling it together. Eat.
Don't like something? Just eliminate it! There are no rules.
That's it! As with the caprese salad, I wouldn't recommend wine. The wine and the vinegar cancel each other out and you can't properly taste either one.
Enjoy!
My printable book list sorted by genre/series/in order.
 My Books by Series list with clickable covers.
I'd love to welcome you as one of my newsletter friends. You'll enjoy book updates, book sales, surveys, and humorous insights to the writing life. Join!