Christina Dodd And The Banana Book Tour
Recently, I traveled the continent to autograph DEAD GIRL RUNNING, so it's time for a re-run of…
THE BANANA BOOK TOUR!
Before I was published, I thought going on a book tour would be glamorous, a time filled with fine hotels, fine food and adoring fans.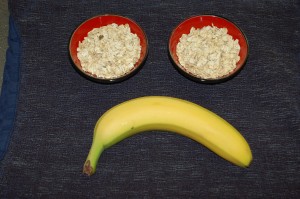 Book tour is grueling, funny, wonderful, surprising, embarrassing and exhausting, often all at the same time. The book tour for THE BAREFOOT PRINCESS started when the Scranton PA Cultural Center asked for a romance writer to speak for Valentine's Day. My publicist at Avon called and asked if I was interested, and I shrieked, "Yes! I can go to Philly afterward and see my daughter!" You'll note at no point did I say, "Yes! Because book tour is glamorous and filled with fine hotels, fine food and adoring fans."
I had been on book tour before.
Thursday — hop three flights starting at 5:20am on the west coast and ending at 6 pm in Buffalo NY. I leave in the dark and land in the dark. Take a cab to the An Unnamed Really Expensive Chain Hotel. They have one valet. The cab sits in line for ten minutes while said valet parked three empty cars in front of us. The cab driver puts the suitcases, which weigh a ton because of promotional materials, on the sidewalk. There is no bellboy. I tug the huge, heavy suitcases toward the doors. One is revolving — small, no way through. The other is a double regular door. A guy who's standing there waiting for his car opens it for me, then watches me struggle to shove one suitcase through and drag the other one, which takes me an embarrassingly long time. The second door is mine to handle. I get into the lobby. No one at the bell desk. Okay.
I go to the desk and check in. The people are kind. They ask if I want reservations for the steakhouse which is supposedly one of the top ten in the country. I say no, I got up at 3 am and I want room service and bed. They say I can get a meal from the steak house through room service. Okay.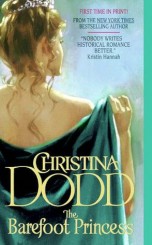 I say, "Can I get help with my bags?" Because they didn't offer. They find some guy in a suit who sends me to my rooms and gets a cart. He brings them right up. He doesn't offer to fill the ice. He doesn't turn on the heat (it's Buffalo in February) He doesn't stick the bags on the rack. He leans them against the wall. Okay.
I go to the phone, call room service, ask where the menu is for the steak house. They'll send one up, then she adds, "But it's 45 minutes to an hour to get anything out of the steakhouse because they're busy." I haven't eaten since six this morning. So I order steak off their menu. Not okay.
I order medium. I get well. I order a salad. The lettuce is wilted. I order the roasted potatoes. They're disgusting. They ask if I want rolls. I say no. They send them anyway, thank God. They are those soft yellow rolls (ick) and they're sort of smushed, but I eat one in lieu of the other stuff. I eat the steak (scarf it, actually), and as many of the wilted greens as I can stomach. I have a glass of wine, then I go down to the bar and get a double cognac to kill the incipient food poisoning.
This is when it gets good…
Or bad, depending on your point of view.
Friday — I order breakfast. Oatmeal, bowl of fruit and OJ. It comes late, and the lady says, "Someone's coming behind me with your fruit." Figures. She puts the tray on the desk. I pull the top off. The oatmeal has a film on it — and there's none too much. And I find out the hard way there are lumps. I spit one back into the bowl. There's a knock at the door. It's her again — and she hands me a BANANA. As I stare incredulously at my "bowl of fruit," she says, "Do you want this one, too?" And pulls a second banana out of her armpit where she was carrying it.
Let me stop for a minute while you contemplate the horror.
Then let me say — I emailed my publicist who immediately told me to pack. They sent a car, and put me in lovely bed and breakfast. But also let me say that when I said, "You're laughing, aren't you?" And she said, (I quote), "Spit out my Special K and yogurt, actually, I was laughing so hard."

And that was just the beginning. I was gone ten days, and while the book signings were great, ten days away is a long, longtime, especially when it involves me being pleasant for more than one day in a row. Ask anyone. I can barely work up pleasant for more than one hour in a row.
When I got home, I kissed the floor.
Not true. I kissed my husband. Thank you to everyone who came to an autographing on that book tour and who will come on the upcoming book tour. I treasure your kindness. In the end, I'd rather have great signings and crummy hotels with armpit food than the other way around.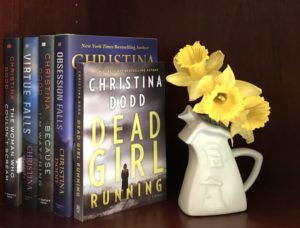 Update: In April and May (soon!), I'll be autographing DEAD GIRL RUNNING in Poulsbo WA, Vancouver B.C., Burien WA, Chicago IL (Naperville), Scottsdale AZ, Houston TX, and Los Angeles CA. Some events include other great authors (Amanda Quick! Susan Elizabeth Phillips! Mary Kay Andrews!) Some stores require an event RSVP (because food.) Please click on your city for details. I hope to meet you, sign books for you, and have a chance to chat!

If you're not near a signing, and would like a personalized, autographed copy of DEAD GIRL RUNNING, call Page 2 Books, and please do it now so they get enough copies! (We ran out last year.) 206-248-7248 or order online.

You can ask Page 2 to order any of my books, paranormal, historical or contemporary suspense, I'll gladly sign them, and they'll ship them to you!
My printable book list sorted by genre/series/in order.
Here's my, "Books by Series and in Order," page.

Thank you!