Have you always wondered what it takes to be an audiobook narrator? What preparation goes into creating an audiobook? I was privileged to choose the narrator for the Bella Terra series, and everything about Khristine Hvam's intensity and voice acting talents made me think she would be perfect for this romantic suspense series. Before she started she emailed to ask questions about the characters, and I got the idea to interview her and share it with you. Yes, I do ask what you've always wanted to know — is it embarrassing to record those love scenes? Enjoy this interview with voice talent Khristine Hvam!
1. How many hours go into recording a full-length book? Let's say 80,000 words?
Great question! Depending on a narrator's pacing it's usually 9100 words per FINISHED hour, so most narrators work at a 2:1 ratio. Meaning for every finished hour of listening… it took your narrator 2 hours to record it.
2. How do you prepare for recording? Do you read a book in its entirety before recording?
There is a ton work that goes into preparing to record the audio for a book. Yes, I definitely read the whole thing first. I mean, could you imagine if stage actors got up on stage and had never read the play?! That poor audience.
3. You make the sex scenes seem very natural and germane to the story. Is it uncomfortable to record them?
OH BOY! In the beginning of my career it was incredibly awkward for me to record these types of scenes. I mean, "good girls" just didn't say these things out loud! LOL! BUT… then I realized, wait! This is about life and love and relationships. This is about the journey of two people who are CRAZY for each other. Once I turned my focus from the words I was saying to the relationships and characters I was portraying it changed EVERYTHING for me. Now, my focus is on these two people who are madly in love and passionate about each other and I just go along for the glorious ride.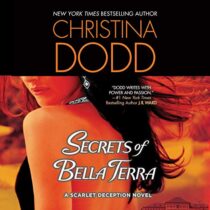 4. What genre do you most enjoy recording? What draws you to a particular genre?
For me it's not about genre, it's about great storytelling. In EVERY genre it's all about the human experience. So, if when it's done well, that's a win for me.
5. How do you decide the voice you give to male characters?
The author is really my "guide" here. She/He tells me everything I need to know about a character. Age, looks, attitude, etc… the author lets me in on all the details of WHO this person is. Then, instead of choosing a voice to play, my focus is on WHO this person is. I connect them to someone I know in real life and viola… voice. It's more authentic that way for me.
6. Have you ever narrated a book that has more than one narrator? Do the narrators work together or is the work spliced together?
Yup! And I absolutely love it. Sometimes we get to work in the same room together, which is loads of fun. And sometimes a wonderfully talented editor splices us together when we record separately. I think listeners enjoy the variety.
7. Do you audition for specific books or are books offered to you?
Both!
8. What did I not ask that I should have?
Hmmmm… well let's see… How about a funny story about the first romance book I ever narrated?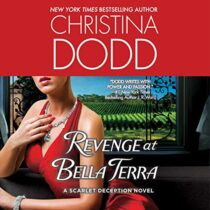 Sooo… It's my first job recording an audiobook, AND it's romance! You've read above about how I used to feel about that. AWKWARD! Well, long story short the main character of the book and the engineer who was hired to record this book along with me, had the same name… lets go with Joe. Well, it just so happens that I developed a HUGE crush on engineer Joe. (side note, he didn't know I existed. Sigh) So, here I am, oooing and ahhhing and "romancing" and having to say things like, "oh Joe, yea Joe, like that Joe, I'm almost there Joe" I'm sure you can imagine my embarrassment. A braver woman would have owned that moment. Nope, not me… I was just mortified!
Heh, heh. Yes, Khristine, I would have been mortified, too. 
Would you like to enjoy a sample of Khristine's work? There are audio samples on the book pages for SECRETS OF BELLA TERRA and REVENGE AT BELLA TERRA. Want to know about Bella Terra? Here is the series page.
Would you like to be notified when my audiobooks will be released? Join my mailing list and enjoy all the privileges that come with membership!