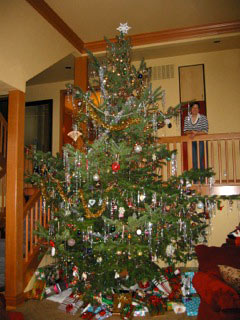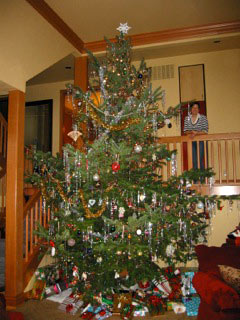 When we moved into our new house, to celebrate, we got this Christmas tree. It was too tall for our great room … and the ceiling's 16′ 8″. Listen, don't laugh, our friends Donna and Monty gave it to us, so it was free and we didn't have to chop it down. The Husband cut a foot off the bottom and a foot and a half off the top. We carried it in. (Our manly neighbor was conveniently not home to help, so I got elected to carry the "light" end. My contribution consisted mostly of saying, "Wait! I'm standing on a branch!")
When we stood it up, the tree hit the ceiling. So The Husband got the loppers, stood on the ladder and cut off another foot and a half. Some might say it smelled like a Xmas tree in here. Actually, it smelled like the whole forest. We had to buy garlands, bulbs and lights (ya think?), and we risked our lives to decorate the tree by using extendo-pinchers and really tall ladders. But everyone in the family thoroughly enjoyed the tree.
So … a few days after Christmas, we invited Donna and Monty to dine with us, drink with us, and admire our gorgeous tree — and that makes the evening's events so much more appropriate.
We were all in the great room after dinner, chatting and relaxing. Donna and I sat on the couch, Monty sat on a chair facing us, The Husband was on the other couch, also facing us. The tree was off to our right. And right in the middle of the conversation, Monty who is a very erudite, articulate, learned man, suddenly shouted (and I'm quoting him exactly), "Ptrmmble! Shxzmnrt! Argk!"
Later he said he couldn't find the right words. Actually, the appropriate phrase would have been, "Timber!"
Because the tree fell on us.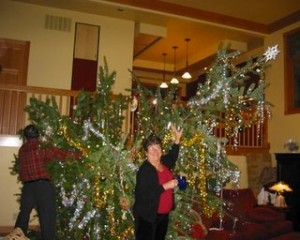 It fell in slow motion (the plastic base cracked and the half-inch metal screws in the trunk bent) so Donna and I were able to scramble out from underneath, laughing wildly. (That's Donna holding the coffee cup and Monte holding the tree while The Husband gets a rope.) The guys righted it, tied the trunk to the stair railing and we all sat down and laughed some more. And every Christmas should have a miracle — only one ornament broke!
This year, of course, we're going to be a lot wiser about our tree. No more of the trees that touch the ceiling. We've learned our lesson … yeah. Right.
No matter what holiday you celebrate, may you have a wonderful time with family and friends and food, and may your tree always remain erect.
Warmly,
New York Times bestselling author,
Christina Dodd
You can find my printable book list organized by genre, series and in order.
Here's my "Books by Series" with covers; click to find excerpts and buy links.
More holiday photos and articles.
My Favorite Photobomber (video)
How Many Of My Characters Have Traits Or Personalities Of Real People I Know