In writing POINT LAST SEEN, I returned to my roots. This is the dedication…
"To my mother, Virginia Dodd, who read to me, listened to me, laughed at my corny jokes and believed I could do whatever I set my mind to. I miss our travels together, the sound of your voice, your gentle hands, your raucous humor. Your gritty determination in the face of adversity taught me everything I know about surviving the tough times and coming out on the other side. When I'm cold, I snuggle under the afghan you crocheted for me, and you're beside me. Thank you for being the best mother I could ever have. I miss you every day, and I love you forever."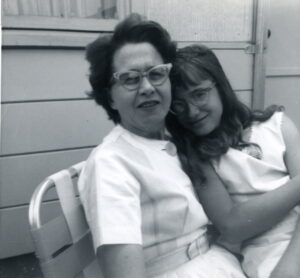 And the end acknowledgements about my family and their influence on me:
"As you read Point Last Seen, you undoubtedly noticed the loving care I used in creating Gothic. I grew up in the San Francisco Bay Area. My grandmother and great-aunts, powerful women who were huge influences on me, were born and raised in Ben Lomond in the Santa Cruz mountains, and as a family we traveled and camped all around central California. As my aunt Sadie once told The Husband, "As long as a wheel's going to turn, we're going to go."
The first time my mother and I drove the scenic Pacific Coast Highway into the heart of Big Sur, we were captivated by its frothing waves crashing against rocky cliffs, wide stunning views and mystical forests that whisper and roar in the ocean breeze. A visit to San Simeon—Hearst's Castle—cemented my sense that here, in this place of wealth and wildness, anything was possible. There was and is an otherworldly ambiance to Big Sur, a sense that this ancient area is immune to civilization. For the most part, it remains untouched.
Naturally when I looked for a glorious, isolated spot to place a small, quirky, totally fictional town with a totally fictional legend, I looked for a glorious, isolated spot to place a small, quirky, totally fictional town with a totally fictional legend, I thought of Big Sur. Being in Gothic gives me great pleasure; I hope you enjoyed your time there…"

You can buy POINT LAST SEEN at your favorite independent bookstore or online: