In this newsletter:
— All Governess Brides books are available in eBook!
Dear Ones,
Ever since I published A PIRATE'S WIFE FOR ME last month, a lot of you have been asking when the first four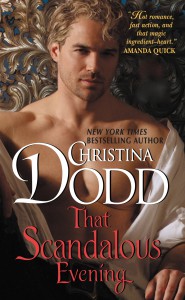 Governess Brides books would be out in eBook. We have been working on it, and now — they are!
Here's a list of the twelve books in the series in order with the links to the sites. They are all (except MY FAIR TEMPTRESS) also available in paperback at your favorite local bookstore or online. Haven't read the Governess Brides series? It's my longest and most popular historical series. Find out why!
#1. THAT SCANDALOUS EVENING A spinster returns to London society to chaperone her niece and finds herself face to face with the nobleman who ruined her life. But she is no longer a cowering debutante, as he finds out to his dismay … and delight. Its humor makes this a reader favorite. On 6/30/15 the paperback will be available with this great new cover!
Buy THAT SCANDALOUS EVENING for your Kindle, Nook, Kobo, Apple Books
#2. RULES OF SURRENDER The Distinguished Academy of Governesses opens its doors to train young women for respectable occupations…unfortunately, Miss Charlotte Dalrumple discovers her first position is to teach Lord Wynter Ruskin, sadly uncivilized by his travels abroad, to take his proper place in society. Hint: it doesn't go well.
Think The King and I with great sex and less singing. (New cover coming!)
Buy RULES OF SURRENDER for your Kindle, Nook, Kobo, Apple Books
#3 RULES OF ENGAGEMENT The Earl of Kerrich is in trouble with the queen because he's unrepentantly disreputable. His solution: hire a governess and get an orphan to raise. That will make him appear respectable. Trouble: the kid is charming, he's falling in love with the unattractive governess … but other than that, what could go wrong?
Oh, so much. (New cover coming!)
Buy RULES OF ENGAGEMENT for your Kindle, Nook, Kobo, Apple Books
#4 RULES OF ATTRACTION Can there be anything worse than traveling far away into the lonely English countryside to take a new position and hearing rumors that the master killed his wife? … Actually, yes. For Miss Hannah Setterington knows the rumors are not true. (New cover coming!)
Buy RULES OF ATTRACTION for your Kindle, Nook, Kobo, Apple Books
#5 IN MY WILDEST DREAMS Poor Garrick Throckmorton. He is a meticulous man who discharges with ease the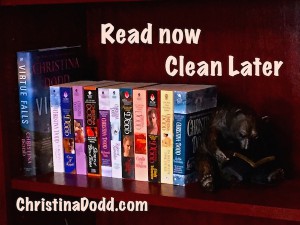 duties of father, son, brother and spy-master. One attractive young woman surely could not overturn all his plans. He will not allow it. If necessary, he will nobly seduce her for the good of his family, his mission…and himself…
"Reminiscent of the classic movie Sabrina, this heartwarming Victorian-era treatment will please Christina Dodd's many fans." —Publisher's Weekly
Buy IN MY WILDEST DREAMS for your Kindle, Nook, Kobo, Apple Books
#6 LOST IN YOUR ARMS The husband who abandoned her has returned, broken, scarred and near death. As she cares from him, she discovers he has lost his memory…and this man is the husband she always wanted. Yet last time marriage cost her her happiness… This time love could cost her her life. (LOST IN YOUR ARMS is one of my personal favorites.)
Buy LOST IN YOUR ARMS for your Kindle, Nook, Kobo, Apple Books
 #7 MY FAVORITE BRIDE An orderly man, his disorderly children, and the woman who will tame them all… "The Sound of Music meets Jane Eyre." — Publisher's Weekly.
Buy MY FAVORITE BRIDE for your Kindle, Nook, Kobo, Apple Books
 #8 MY FAIR TEMPTRESS Miss Caroline Ritter, accomplished flirt, acknowledged beauty, and ruined gentlewoman, offers lessons to any rich, noble lord too inept to attract a wife. Please, absolutely no devastatingly attractive men with hidden agendas such as vengeful plots against evil villains—specifically not Jude Durant, the earl of Huntington, the most handsome, covert, and dangerous of all the aristocrats in Regency London.
Buy MY FAIR TEMPTRESS for your Kindle, Nook, Kobo, Apple Books
MY FAIR TEMPTRESS is not available in paperback. I don't know why.
#9 IN BED WITH THE DUKE Demure lady's companion Emma Chegwidden finds herself drawn into heady adventure and rising romance when she saves the life of a masked avenger who rides the night-shadowed countryside in search of justice. Little does she know he is Michael Durant, long-lost heir to the duke of Nevitt, and he will defy anything, even fate itself, to claim her…
Buy IN BED WITH THE DUKE for your Kindle, Nook, Kobo, Apple Books
#10 TAKEN BY THE PRINCE Only Victoria knows the truth about dashing, dissolute, dangerous Saber Lawrence—that he is a renegade prince plotting to seize control of his country. To ensure her silence, Saber kidnaps Victoria and carries her away to his castle deep in the woods. There they hide the truth about their past: a glittering ball, angry words, a passionate kiss. He vows to vanquish her reserve…but soon finds an English governess is not so easily seduced…
Buy TAKEN BY THE PRINCE for your Kindle, Nook, Kobo, Apple Books
#11 A PIRATE'S WIFE FOR ME
Caitlin MacLean's story, a full-length, lush historical adventure…(her character was introduced in LOST IN YOUR ARMS )
Never trust a pirate with your virtue. (Also your rum, your treasure map…or your heart.
Buy A PIRATE'S WIFE FOR ME for your Kindle, Nook, Kobo, Apple Books and in paperback!
HERO COME BACK "The Third Suitor" novella
Hoyden heiress Lady Jessie Macmillian must choose a husband from among three suitors, but a surprise awaits her … and Harry Chamberlain, the gentleman-spy who falls into the web of tangled courtships. (You'll recognize Harry from LOST IN YOUR ARMS.)
Buy HERO COME BACK for your Kindle, Nook, Kobo, Apple Books
 Whew! There you are! You can also find the Governess Brides list on my website; all books have excerpts and other information. You can also download my printable book list with all of my books organized by genre (historical, paranormal, and contemporary suspense), series and in order. Feel free to forward this email to your friends who enjoy romance.
Until next time, happy reading! Warmly,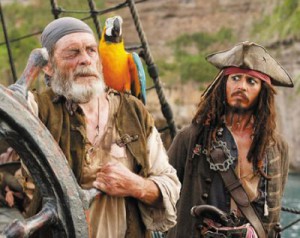 Christina Dodd
New York Times bestselling author of
THE SMUGGLER'S CAPTIVE BRIDE
WILD TEXAS ROSE
 A pirate walked into a pub. Pubkeeper: "What happened to you? Last time I saw you, you looked great. Now you've got a wooden leg, a glass eye & a hook." Pirate: "First we were in battle, & a cannonball blew my leg off. Then we were in another battle, & a sword cut my hand off. Then a bird flew over the ship, I looked up, & it pooped in my eye." Pubkeeper: "You lost your eye to some bird poop?" Pirate: "I wasn't used to the hook…"