In this newsletter:
— From Bookbub: Books to read if you love Nora Roberts…OBSESSION FALLS!
— Writing help for you!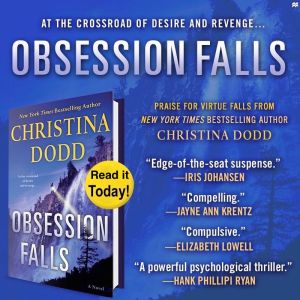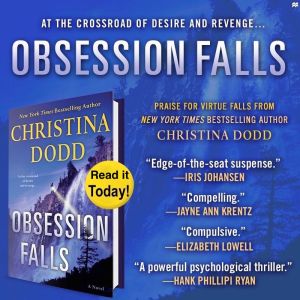 Dear ones,
One tiny bit of news and help from your personal writing guru.
— Bookbub posted an article with Three Books to Read If You Love Nora Roberts…and OBSESSION FALLS was one! "Why we recommend it: If you're a fan of Nora's In Death series, you'll delight in this tale of romantic suspense by another master of the genre. Dodd delivers an engrossing mystery, a strong heroine, as well as revenge, suspense, and—of course—romance."
— November is almost here and that is #NaNoWriMo (National Novel Writing Month.) I know a lot of you intend to participate, so I'm including some of my articles I think might be useful.
— The Best Way To Write A Book (Imagine that, I have an opinion.)
— Where do you get your ideas?
— Romance clichés for the Twenty-first Century (PDF)
— Friends, Enemies and Writing
— How Many of My Characters are Based on Real People?
— My Brief and Random Writing Tips
— The Nuts and Bolts of Writing Sex
— My Funniest Mistakes
— You might also want to check out my bio to see how long it took me to get published (hint: a long time) and my Top Ten Points of Wisdom.
Go forth and write … and read!
Warmly,
Christina Dodd
New York Times bestselling author
October only! Read WILDER FAMILY HALLOWEEN free on my website.
What do zombie vegetarians eat?
Graaaaaains.