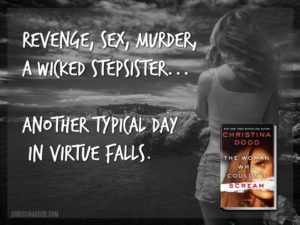 I love to share my good news with you, my readers. THE WOMAN WHO COULDN'T SCREAM is one of Amazon's Best Books of September!
And THE WOMAN WHO COULDN'T SCREAM got a starred review from Library Journal!
★ 08/01/2017
With her future destroyed by an explosion aboard an airplane and her fiancé supposedly dead, Merida Falcon (aka Helen Brassard, Merry Bird) reluctantly agrees to a trophy-wife marriage in exchange for the reconstructive surgery that will turn her into a beauty. Nine years later, her cruel, controlling husband is dead, and Merida heads for the solitude and anonymity of Washington State's Olympic Peninsula, intent on bringing down those who caused the accident that left her disfigured and unable to speak. Yet the tiny town of Virtue Falls is not the haven for which she'd hoped. When people from her past, including her former fiancé Benedict Howard, show up and the whispered phone calls begin, Merida knows she's no longer safe—and then the gruesome killings start. Intriguing characters (including an especially horrifying villain), twin romances (Kateri and Stag's prickly sparring as well as Merida and Benedict's trust-challenged bond), and a complex plot that reveals itself with chilling precision keep the pages turning. VERDICT Tense, taut, and beautifully paced, this latest addition to Dodd's series is another stunner; it will appeal to romance and suspense fans alike.
Added to the other wonderful reviews, this adds up to a great read for you—and I write for you!