The Payoff Kateri Fans have been Waiting For!
"This book is the payoff Kateri fans have been waiting for, as Dodd weaves together the story of two women who have faced death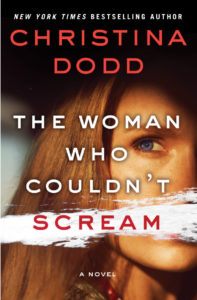 and come out stronger and more determined. This book is a fantastic blend of vengeance, mystery, passion and murder!" — RT Book Reviews

"Complex storytelling, a rollicking pace, and surprising twists and turns, plus sly humor, a touch of the supernatural, and a full cast of interesting and diverse characters. Readers will be thrilled to get back to Virtue Falls." — Kirkus Book Reviews

"With the fourth wildly original addition to her Virtue Falls series, Dodd takes more than a few creative risks and then brilliantly succeeds in this sexy, compulsively readable tale of romantic suspense." — Booklist

"Tension builds and suspicion shifts with breakneck speed." — Publishers' Weekly

THE WOMAN WHO COULDN'T SCREAM, out now!