IT WAS EARLY MORNING when Evie got to her mother's house. It looked the same; a narrow, two-story, white bungalow with dark green trim and a white picket fence. Spring bulbs poked their heads out of the flower beds. She lingered on the sidewalk, held by a fear unlike any other she had faced in her ordeal.
         When Mama realized the identity of the stranger on her doorstep, would she even let Evie in? More important, was she even home?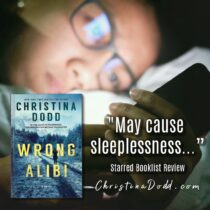 Someone was, because someone passed by the living room window, then by a side window toward the back of the house.
        Evie walked up the driveway toward the garage, opened the gate, shut it behind her and walked to the side door. She stood, fist raised, wanting to knock.
         The door jerked open.
         They were face-to-face.
         Her mother.
         And Evie.
         Both were startled.
         Evie should explain who she was. Because how could anyone recognize her after all the surgeries?
         But Ioana's face crumpled. "My baby." Without needing a word or a second glance, Ioana knew her. She pulled Evie into her embrace. "My Evie. You're alive. You're alive."
         Evie cried. Even with her broken, rearranged face, her mother knew her.
         The moment lasted ten seconds.
         Ioana caught her breath, muttered, "We can't do this here. Old Mr. Gagnon sees everything," and yanked Evie inside. — WRONG ALIBI is out now! Buy it at your favorite independent bookstore or online:
Trade paperback
E-Book
Digital Audio
Hardcover

Christina Dodd downloadable/printable book list sorted by genre/series/in order.
Christina Dodd Books by Series. Click covers to read excepts, listen to audiobook chapters and find buy links.
Put more fun in your life Join Christina's mailing list!