Just released! RULES OF SURRENDER:  Governess Brides is out now in paperback and e-book with this brooding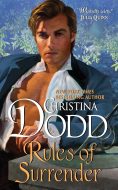 new cover. Think The King and I with no singing and great sex! Buy RULES OF SURRENDER in paperback with the new cover at Amazon, Barnes & Noble, Books-a-Million or your favorite local bookstore.
Buy RULES OF SURRENDER for your Kindle, Nook, Kobo, Apple Books.