For you, A PIRATE'S WIFE FOR ME is in paperback, eBook and for the first time in audiobook!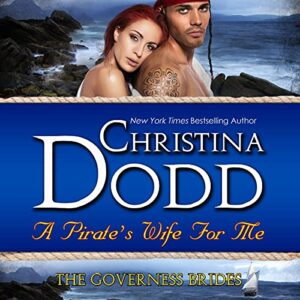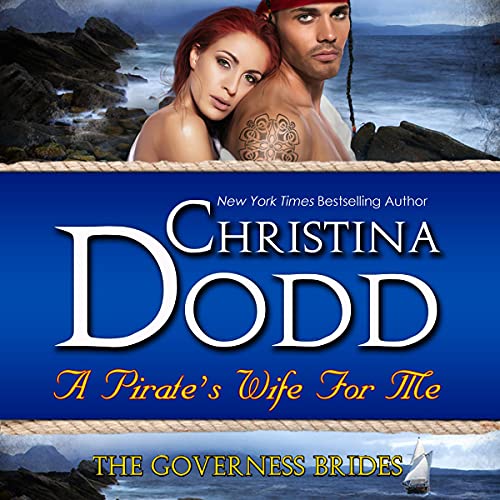 Once upon a time in Scotland, a headstrong noblewoman fell in love with an idealistic exile, and he loved her in return. But he was a prince in disguise and when he left, she became wild and unruly, until the day she ran away to help overthrow an evil tyrant…
On this mission, Caitlin MacLean meets her lover again. Taran Tamson is no longer a youth, but the commander of a pirate ship, a stern warrior determined to fulfill his destiny by any means…and determined to hold her at any costs.
They are united in purpose, but she has grown into a woman cold, practical and accomplished, and she has no use for love. For how can she ever again trust this harsh, ruthless man who once broke her heart?
"Wickedly witty," — Julia Quinn, author of Bridgerton
Paper

Add A PIRATE'S WIFE FOR ME to your Goodreads  To-Read list or review it:

The Governess Brides is my longest running and most enduring historical series, and A PIRATE'S WIFE FOR ME is the last full-length Governess Brides story. While all the Governess Brides include characters and threads that connect the series, each book is stand-alone.
If you purchase one of the Governess Brides books for Kindle and have a Audible account, that audiobook is available for a discounted price. In the case of A PIRATE'S WIFE FOR ME, you can buy the Kindle book and add the audiobook for $1.99. That's an amazing savings!
Read an excerpt and listen to a free audiobook clip!
View the complete Governess Brides listed in order.
I'd love to have you as a newsletter friend. Join now and receive a free Virtue Falls short story, THE WATCHER!
Printable/downloadable booklist sorted by genre, series and in order.
Books by Series with covers and links.