"Wickedly witty," — Julia Quinn, author of Bridgerton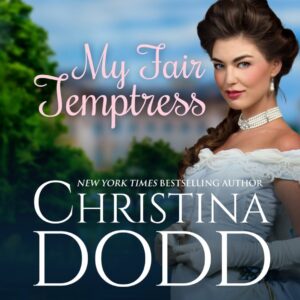 Adorna, Lady Bucknell, the proprietress of the Distinguished Academy of Governesses, folded her hands on her desk and gazed at the young lady seated before her.
            Miss Ritter said, "I need a job."
            Pinning her with a direct gaze, Adorna asked, "What are your accomplishments?"
            Miss Ritter hesitated a telling moment.
            Adorna tried to make it easier for her. "What do you do best?"
            "Flirt," she said promptly.
            Adorna believed her. She had seen many a young lady come through her study at the Distinguished Academy of Governesses, all of them in need of assistance, but she had never felt such a kinship as she felt now for Miss Caroline Ritter.
           This young lady was beautiful. Her smooth, tanned complexion reminded Adorna of the tale repeated about the Ritters — that four hundred years ago Mr. Ritter brought home a bride from some exotic locale, and since then the women of the family had been temptresses who led all men astray. Miss Ritter certainly fit the role.…
            Yet her bonnet was frayed, her hem was frayed, her composure was frayed. The finger of one glove had a hole, badly mended, her lips were chapped from the cold, and her dress had been turned too many times. She had hit bottom, and something had to be done.
            "Very well." Standing, Adorna went to her desk. Digging down to the bottom of the employer requests stacked on her desk, she found the one she wanted and pulled it out. She re-read it, and nodded. "Miss Ritter, I have the perfect position for you."— For the first time, MY FAIR TEMPTRESS is available in audiobook from Brilliance Publishing, narrated by voice talent Karen Cass!
Digital Audio
MY FAIR TEMPTRESS is also available in paper (supply is limited!) and eBook with the original cover!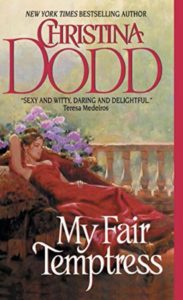 Paper
E-Book
The Governess Brides Series in order:
Audio book page; a complete viewing of all Christina Dodd books currently published in audio.
Want to follow the fascinating process of re-designing the IN MY WILDEST DREAMS cover? Read!
Read an interview with audiobook voice talent Khristine Hvam!
If you're not already a newsletter friend, what are you waiting for? I'd love to welcome you. You'll enjoy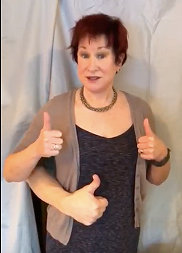 book updates, book sales, surveys, and humorous insights to the writing life. Join!
Christina Dodd downloadable/printable book list sorted by genre/series/in order.
Christina Dodd Books by Series. Click covers to read excepts, listen to audiobook chapters and find buy links.