HIDDEN TRUTHS: Everyone has them. What are yours?
His new bride, Kellen, hovers between life and death.
A convicted serial killer threatens their child.
Max Di Luca goes on the hunt…
What would you do to protect your family?
Out now! HIDDEN TRUTHS is jam-packed with danger, action, a further episode in Max and Kellen's romance and, of course, Rae, who fervently believes in the miracle that will return her new mother to life. Get your copy today!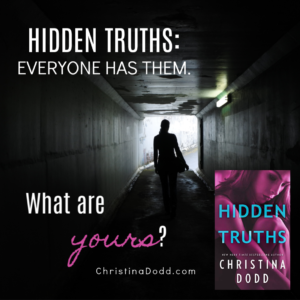 Read the entire acclaimed Cape Charade series:
1. HARD TO KILL: Cape Charade suspense novella
2. DEAD GIRL RUNNING: Cape Charade full-length suspense
3. FAMILIES AND OTHER ENEMIES: Cape Charade suspense novella
4. WHAT DOESN'T KILL HER: Cape Charade full-length suspense
5. HIDDEN TRUTHS, Cape Charade suspense novella
6. STRANGERS SHE KNOWS: Cape Charade full-length suspense, Sept. 17, 2019

And for my readers who love audiobooks:
Three Cape Charade Suspense Stories in Audio! Now out!

I'd love to have you as a newsletter friend. Join now!
Printable/downloadable booklist (Updated)
Books by Series