RT Book Reviews called THE WOMAN WHO COULDN'T SCREAM, "The payoff Kateri fans have been waiting for!" Now they've declared it on of six finalists for their 2017 Award! The review says, in part, "Remarkable storyteller Dodd returns for a new installment in her dangerously thrilling Virtue Falls series. In the previous books of the series, readers were treated to pieces of the amazing evolution of Kateri Kwinault, now the newly elected sheriff of Virtue Falls. This book is the payoff Kateri fans have been waiting for, as Dodd weaves together the story of two women who have faced death and come out stronger and more determined. This book is a fantastic blend of vengeance, mystery, passion and murder!"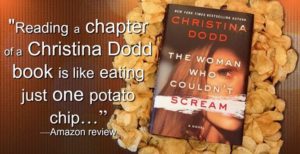 Here's the whole list of finalists. Warning! Viewing this could ruin your book budget!
THE WOMAN WHO COULDN'T SCREAM is also one of Amazon's Best Books of 2017, with a Library Journal starred review that called it, "Another stunner." I'd keep bragging, but you know how modest I am… (Oh, stop laughing!) (If you really want to know, you can find more braggy tidbits in my newsletters and other news articles.)
Buy THE WOMAN WHO COULDN'T SCREAM:
Hardcover: Books-a-Million, Barnes & Noble, Amazon
Ebook: Kindle, Nook, Kobo, Apple Books, GooglePlay
Audiobook: Apple Books, Audible audiobook,
Waiting for the paperback release? That will be March 27, and at that time, the ebook price will drop, too.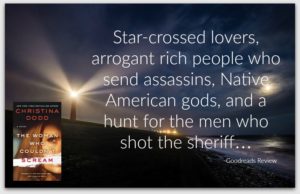 Thank you to everyone who has bought and enjoyed the whole Virtue Falls series. I've never had so many fabulous reviews, reader comments, and word of mouth, and I'm thrilled and excited that you've embraced the books so excitedly!
To keep up to date, please join my mailing list.Want a "Books by Series and in Order" page? It's here.
Want the printable booklist sorted by genre/series/in order? It's here.