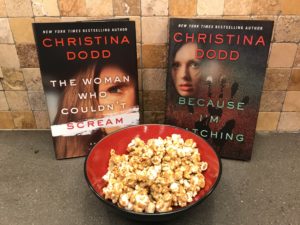 Wallet Warning! THE WOMAN WHO COULDN'T SCREAM is on Amazon's Best of the Year list! When you look at this list, your wallet with scream (with joy!) Twenty. Great. Books. And yes, you remember correctly — last year BECAUSE I'M WATCHING (now available in paperback) was also one of Amazon's Best of the Year. When I wrote the Amazon editor to thank her, she said, "Thank YOU—marvelous books like yours is what makes the world a better place."
What did I do to celebrate? Let me put it this way — it's hard to write the next book with fingers sticky from the caramel corn!
You can get THE WOMAN WHO COULDN'T SCREAM at your favorite bookstore or:
Want more Virtue Falls? Here's the series page featuring all full-length thrillers and quirky short stories; hover your pointer over each cover to get the position in the series, click on each cover to read an excerpt.