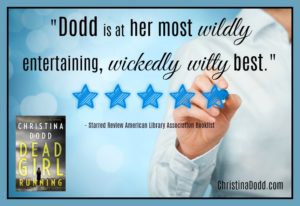 On May 1, Amazon released their Best Books of the Month, and DEAD GIRL RUNNING is on the list!
"Dead Girl Running is the perfect book for fans of The Girl on the Train."–Parade Magazine
"Complex, intense, and engrossing, this riveting romantic thriller has a chilling gothic touch and just enough red herrings and twists to keep readers on edge."—Library Journal *starred* review for DEAD GIRL RUNNING 
This murder mystery is the perfect pairing for a glass of wine and a kid-free night.— Working Mother Magazine
"You can always count on the ingenious mind of Christina Dodd to deliver fascinating, unusual & highly intriguing stories."—RT Book Reviews Top Pick for DEAD GIRL RUNNING 
"If you're still obsessing over Girl on the Train, Dodd's new release will be your new addiction."–Brit+Co Magazine about DEAD GIRL RUNNING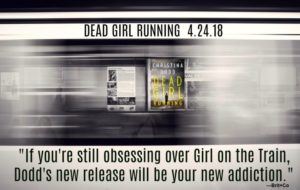 "Readers who enjoy Nora Roberts will devour Dodd's electrifying novels." -Jayne Ann Krentz, New York Times bestselling author about DEAD GIRL RUNNING 
"Disgruntled employees, picky guests, unreliable vendors—Kellen Adams, assistant manager of the Yearning Sands resort, can handle any of those issues without breaking a sweat, but a corpse is something different. … No one does high-stakes, high-voltage suspense quite like Dodd, and her latest flawlessly written novel is another guaranteed keep-the-lights-on-late read. From the unforgettable heroine with a past to the incisively etched cast of secondary characters to the brilliantly imaginative plot, Dodd is at her most wildly entertaining, wickedly witty best." — DEAD GIRL RUNNING *Starred* Review from Booklist, the official magazine for the American Library Association.
"A series of twists and turns lead to a surprising ending…Dodd does a masterly job of maintaining suspense."—Publishers'Weekly DEAD GIRL RUNNING
A note from Christina Dodd: Not that I object to DEAD GIRL RUNNING being mentioned in the same breath (twice!) as an eye-popping suspense bestseller, but with all due respect to everyone who loved GIRL ON THE TRAIN, I would like to point out that my all characters are likable, even the villains. Maybe especially the villains.
I hope you enjoy DEAD GIRL RUNNING!