My publisher, HQN Books, made a DEAD GIRL RUNNING book trailer, like a movie trailer only… well, you know. It's brilliant andmoving and shows you the kind of journey you're going to take with Kellen Adams in DEAD GIRL RUNNING. Take 51 seconds and watch.
Then take this quick survey and tell us your opinion. What do you think? Does it make you feel as if you're walking in her shoes? Do you never watch book videos? My publisher is very interested in your response, and so am I. Thank you!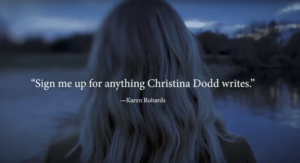 If you're not already a Christina Dodd newsletter friend, please take a moment to join at https://christinadodd.com. You'll get book news, exclusive contests, and treehouse updates delivered right to your inbox! Join now!